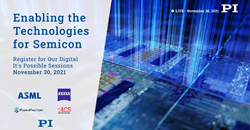 AUBURN, Mass. (PRWEB) November 18, 2021
Following its successful Future of Laser Materials Processing digital event earlier this year, PI is hosting a tech-talk live streaming event on the topic of Enabling the Technologies for Semicon, with speakers from ASML, Zeiss, FormFactor, ACS Motion Control, and PI.
Semiconductor technology represents one of the most important industry sectors in the world paving the way for progress in many technological areas including, computing, data storage, signal processing, and opto-electronics. More advanced semiconductor components are the prerequisite for essential developments in 6G technology, Internet of Things (IoT), Cloud and Edge Computing, or Electric and Autonomous Vehicles.
Join us in our "Enabling the Technologies for Semicon" digital event, where we bundle knowledge about market trends and technologies in order to meet the needs of industry and end customers - now and in future. You can expect exciting presentations from experts on applications, manufacturing requirements and solutions.
Let us inspire and excite you!
Agenda, Register for the Semiconductor Tech Talks»
Working with You
PI's in-house engineered solutions have enabled customers around the world to increase their productivity and technological advantage for 5 decades. With a large basis of proven motion technologies and methodologies, PI is in the position to quickly modify existing designs or provide a fully customized OEM solution to fit the exact requirements of your application from sensors and piezo transducers to microscope nano-focus units, fast photonics alignment systems to multi-axis automation sub-systems.
USA / Canada
http://www.pi-usa.us | info@pi-usa.us |(508) 832-3456
About PI
PI is a privately held company that designs and manufactures world-class precision motion and automation systems including air bearings, hexapods, and piezo drives at locations in North America, Europe, and Asia. The company was founded 5 decades ago and today employs more than 1300 people worldwide. PI's customers are leaders in high-tech industries and research institutes in fields such as photonics, life-sciences, semiconductors, and aerospace.