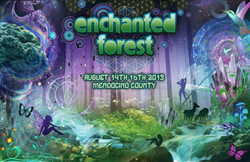 As a community, Enchanted Forest has spearheaded a cultural movement, by fully embracing the possibilities of an engaged festival community and bringing people together through the creativity and passion of its community members.
San Francisco, CA (PRWEB) July 27, 2015
Enchanted Forest has announced its full talent roster; a bass-heavy lineup with eclectic live music showcasing some of today's most innovative and explosive musicians, DJs, live theater, and workshops. "The sheer VARIETY of music we are offering is amazing! Our top 3 headliners span from UK electronic to popular jam band to hip hop," said Megan Prusynski, Enchanted Forest production assistant. "We're digging deeper and widening our circle and opening our minds a little bit."
This year marks Enchanted Forest's move to its new location. The Black Oak Ranch in Laytonville, California, is a beloved Northern California concert venue, with its extensive grounds covering approximately 150 acres, year-round flowing creek, and camping in old growth oaks. Located a three hour drive north of San Francisco and two hours south of Arcata, Black Oak Ranch has been host to numerous musical legends, world-class events and iconic personalities; from Wavy Gravy & Smokey Robinson to Earthdance Northern California, to the Global Festival For Peace and the Kate Wolf Music Festival. In just five years, Enchanted Forest has emerged as a conscious celebration on the West Coast, featuring groundbreaking artists and fun for the whole family. As a community, Enchanted Forest has spearheaded a cultural movement, by fully embracing the possibilities of an engaged festival community and bringing people together through the creativity and passion of its community members.
Festival musician lineup includes Papadosio, singer-songwriter Anthony Thogmartin, glitch-hop and bass Bristolian purveyors KOAN Sound, whom Huffington Post called, "one the most memorable musical acts" at this year's Lightning in a Bottle festival. In addition, Chali 2na & The House of Vibe; who from his days growing up on the hard streets of Chicago's south side; to his subsequent explosion onto Los Angeles' burgeoning hip-hop scene; to his tenure as MC for seminal hip-hop group Jurassic 5, and his front-man duties for Grammy-Award winners, Ozomatli, epitomizes the portrait of the multi-talented 21st century artist. Other performers include Swedish-born electronic musician Martin Staaf, a.k.a. Liquid Stranger, called "the epitome of Transnational Dubstep" by Generation Bass, Ott; English music producer Ott Blumenkraft who may be known for his work with the likes of Sinéad O'Connor, VASKI; who's delivered multiple #1's on Beatport and top 10's on Hype Machine, and Phutureprimitive; (a.k.a Rain), who draws crowds to the dance floor for a primal experience accompanied by state-of-the-art visual effects. Also featured is San Francisco's An-Ten-Nae, MC Yogi who blends his love and knowledge of yoga culture with hip hop, reggae, and electronic music, and El Radio Fantastique, the eight-piece ensemble headed by the charismatic former New Orleans mime and singer, songwriter and multi-instrumentalist Giovanni Dimorente. To view the complete lineup visit: http://www.enchantedforestmendo.com/lineup/.
The event will also feature a Hearth Jazz & Tea Lounge, where participants can enjoy tea service throughout the night, a mixture of Jazz and Soul music, plus performances by fire dance troupe Luminesque and Visionary Alliance, consisting of costuming, stilted creatures, choreographed dances and dangling aerialists, and visuals by Johnathan Singer, a forerunner of progressive psychedelia, and more.
Enchanted Forest endeavors to deliver the ultimate conscious festival experience with its integration of dance, yoga, music, and community. The event features Dance facilitators teaching a variety of different movements from Contact Improv and Jazz to Holistic Twerking, and highly sought-after Yoga instructors. There is also a new, expanded Flow Zone, a 'Mini Flow Fest' complete with International Flow Instructors, Workshops, Demonstrations, Performances, and expanded themed workshop spaces with talks taking place throughout the day on Mind, Spirit and Sexuality, to name a few.
To stay up to date on all Enchanted Forest news, visit http://www.enchantedforestmendo.com
and the official Facebook page, http://www.facebook.com/EnchantedForestGathering.
To automatically receive future updated press releases or to request media interviews, performers bios, digital images, promotional tickets or press passes, please contact festival publicist Yvonne Hendrix at e-mail: yhendrix(at)sonic(dot)net.
About Enchanted Forest:
Located in Northern California's Mendocino County, Enchanted Forest festival features an international lineup of top Producers & DJs, Visionary Artists, Galactivated Downloads, and Healing Sanctuary of Squish. Their sacred offerings also include Movement & Play, Gender Alchemy, and Kids Kamp.