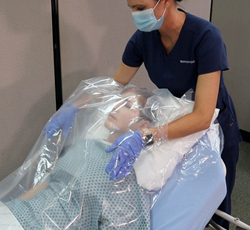 "Due to recent findings, there is an increased focus on finding ways to protect healthcare workers and operating room personnel from exposure to COVID-19." - Kristy Warren Encompass Group Director, Clinical Resources
MCDONOUGH, Ga. (PRWEB) September 24, 2020
Encompass Group, LLC announces COVAIRE™, an innovative new product that helps contain viral aerosols using a clear plastic disposable barrier. COVAIRE provides visual access with ease of maneuverability while further protecting the healthcare worker from aerosolized particles during high risk aerosol-generating procedures. It's an additional layer of protection to compliment providers' current PPE.
COVAIRE is generously sized – adequate length and girth for a bariatric patient – and made of a clear, medical grade film that's safe, comfortable, and lightweight. With its contoured silhouette, COVAIRE tucks under the patient's head, covering the temporal and ear regions. A curved opening on each side allows the provider to insert his/her arms for a full range of movement without restriction when operating an apparatus, intubating or extubating. COVAIRE does not move while in use. Once a procedure is complete, COVAIRE folds up, aerosolized viral particles are contained on the product and can be safely disposed of.
COVAIRE's cost-effective, small individual package size allows it to be stored for easy access in code, respiratory, and anesthesia carts. It can be utilized in all patient care areas: OR, ICU, ED, In-patient, Out-patient, and Cardiology.
Kristy Warren MSN-Ed, RN, BA, CLLM Director, Clinical Resources Encompass Group, LLC says, "Due to recent findings, there is an increased focus on finding ways to protect healthcare workers and operating room personnel from exposure to COVID-19. Research indicates that mobilization of the virus by aerosol generating procedures, such as intubation, extubation, TEE, CPR, and EGD may pose a significant risk to caregivers. Aerosol generating procedures should be regarded as a time when production of airborne particles and aerosolization of the virus is highest."
Studies from the New England Journal of Medicine have recently proven that once aerosolization occurs, airborne particles containing the live virus may be suspended in the air for up to three hours creating increased opportunities for healthcare worker exposure. COVAIRE is a simple, innovative, easy-to-use way to help protect caregivers.
About Encompass Group
Encompass is one of the world's leading manufacturers and marketers of reusable textiles, professional apparel, and disposable and single use medical products. Encompass believes that every patient, resident, caregiver, and family member should feel safe and comfortable in today's healthcare environments. The way Encompass enhances the healthcare experience is by developing innovative products that are reliably delivered and cost effective for all providers.
The markets we serve include Acute Care, Long-Term Care/Senior Care, Retail Health Care Apparel, Hospitality, and Government Operations. For more information, please visit http://www.encompassgroup.com, email info@encompassgroup.net, or call (800) 284-4540.