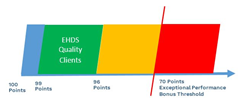 FORT COLLINS, Colo. (PRWEB) August 10, 2018
Encompass Healthcare Data Solutions' clinical quality management clients will receive bonus money for their 2017 MIPS reporting efforts. EHDS helped its clients achieve final MIPS scores ranging from 96.47 to 98.72 out of a total of 100 points available, deeming them "exceptional performers" by the Centers for Medicaid and Medicare Services (CMS). Exceptional performers are clinicians or groups that achieved a final MIPS Score of 70 or higher and will be paid additional bonus money from a pool of $500 million. All of this translates to positive payment adjustments for EHDS quality clients ranging from $334,000 to $580,000 for projected 2019 Medicare payments.
Clients utilized EHDS's Monitor Assess Prescribe Solutions (MAPS) ongoing consultation services to assist in achieving their scores. This service provides clients with federal quality reporting strategies and recommendations, provider compliance tracking and feedback, and the skill set to help keep the penalties at bay.
In April of 2015, Congress passed the Medicare Access and CHIP Reauthorization Act (MACRA) with strong bipartisan support. MACRA introduced the Quality Payment Program, or QPP. The QPP includes two provider reimbursement programs: the Merit-based Incentive Payment System (MIPS) and Advanced Alternative Payment Models (APMs).
Under MIPS, the PQRS, Value-based Payment Modifier (VBM) and the Electronic Health Record Incentive Program (Meaningful Use) were rolled into a single program. Providers are required to submit quality data, participate in improvement activities, and submit data on advancing care information. There is also a cost category calculated by CMS.
The performance period for year one of the MIPS began January 1, 2017, with payment adjustments taking effect in 2019. Failure to submit any quality reporting data in 2017 meant an automatic negative 4% payment adjustment for 2019 Medicare payments. The penalties then continue to rise sharply to negative 9% in 2022. Commensurate bonus payments are available to those clinicians whom perform well.
2017 was a transition year for MIPS reporting. Eligible clinicians could participate in a number of ways – from reporting a minimal amount of data to simply achieve a neutral payment to participating in a full year's worth of reporting. EHDS clients that opted to participate in a full year of reporting received the positive payment adjustment. CMS indicates that 91% of eligible clinicians participated in the 2017 MIPS, with the majority of clinicians opting to simply avoid a payment adjustment by submitting a minimal amount of data. Because MIPS uses money from penalties to pay out incentives, the bonus money available was small in 2017.
Staying on top of the ever-changing regulatory requirements, such as MACRA/MIPS, while also providing high-quality patient care, is a daunting task. Reimbursement penalties for lack of participation in federal reporting programs are rapidly increasing. Additionally, provider and practice reputations are at risk as the CMS continues to release quality metric performance ratings to the public via its Physician Compare website. While there is much to lose in non-participation, there is also a lot of potential revenue up for grabs for physician groups that submit clinical quality data and show progress to improvement.
Take a Clinical Quality Management Risk Assessment today: https://encompassmedical.com/rcm-risk-calculator/