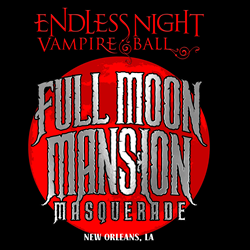 We're Setting a New World Record for the Largest Virtual Vampire Gathering in History.
NEW ORLEANS and LOS ANGELES (PRWEB) October 07, 2020
Endless Night and the House of Blues New Orleans are proud to present the first ever Virtual Vampire Ball on Halloween weekend: October 30th and 31st, 2020. This year's theme is "Full Moon Masquerade," with a ton of immersions, entertainment and, of course, Fred Samedi, the guardian spirit of the Endless Night events, hosting as the Master of Ceremonies.
Because we cannot gather safely in person this year, due to government regulations and nationwide travel restrictions, we're looking forward to celebrating in a way unlike ever before. The goal is to set a new world record for the largest virtual vampire gathering in history! Tickets are available at the Endless Night Portal found at http://portal.endlessnight.com!
Here are other enticements and entertainments you can expect:
DJs Matt V Christ and Aengel will spin right from the main stage at the House of Blues NOLA
Local and international burlesque performers featured throughout the evening!
Virtual Vampire Bazaar has already kicked off for the month - October 1st to 31st - http://www.facebook.com/groups/vampirebazaar
Virtual Vampire Best Dressed Contest hosted by JoHanna Moresco of the Cruxshadows - Oct 5 to 20 though the EN FB group http://www.facebook.com/groups/endlessnightvampireball
"Full Moon Mansion" our immersive VIP Vampire Salon will take place Friday - October 30th 9:30pm to 1:30am CST
Voodoo Queen Bloody Mary will be hosting our opening and closing ceremonies.
Storyteller Cedric Whittacker and Fright Night NOLA will be hosting a tour of the mysteries of New Orleans.
A portion of all ticket sales will be going to DontbeaMonster.org an anti cyber bullying charity! And much more, which will be announced throughout the month!
TICKETS:
Everyone who has tickets for the Samhain 2020 (postponed to October 30th 2021), the Tampa Vampire Ball 2020 (postponed to April 2021) and the Salem Vampire Ball 2020 (postponed to October 16th 2021) will receive a free ticket to this year's Virtual Vampire Ball. VIP tickets will include the Full Moon Mansion, which includes an immersive Zoom event on Friday October 30th!
For those who do not have tickets to these events tickets are $20 singles, $30 couples and $50 for household watch parties. Get your tickets at portal at http://portal.endlessnight.com
A MESSAGE FROM FATHER SEBASTIAAN:
"We miss you all and crave the time when we can all gather again in person. We cannot wait to feel the collective energy next time that we gather to drink, dine and dance. The health and safety of all who'll join us, as well as the health and safety of our Krewe is our TOP priority so let's celebrate together in a new, safe and unique way: virtually!"
Endless Night Portal - http://portal.endlessnight.com
Instagram - http://www.instagram.com/endlessnightvb
Tickets - http://portal.endlessnight.com
YouTube - http://www.youtube.com/endlessnightvampireball
Facebook Group - http://www.facebook.com/groups/endlessnightvampireball
Facebook Page - http://www.facebook.com/endlessnightvampireball
Bazaar - http://www.facebook.com/groups/vampirebazaar
Ball - https://www.facebook.com/events/1093123274044217
Online store for merchandise - http://www.vamporium.shop
PRESS CONTACTS:
Nicole Rodrigues and Erin Hartung
NRPR Group for Endless Night
nicole@nrprgroup.com and erin@nrprgroup.com