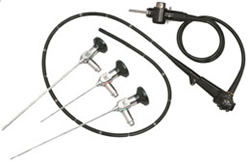 Stow, OH (PRWEB) March 03, 2014
Spectrum Surgical Instruments Corp. is pleased to extend its repair services for all makes and models of flexible and rigid endoscopes. The company maintains a large, dedicated in-house inventory of loaner scopes. Spectrum provides advanced repair capabilities and offers preventive maintenance programs at no charge, with rapid turnaround on repairs. From interior cleaning of the optical system, light fiber and lens replacements on rigid endoscopes to small diameter flexible scope repair and complete refurbishing, Spectrum Surgical is the one source for cost reducing products, services and educational programs that make patients safer.
Contact Spectrum Customer Care Representative today at 800-444-5644 or visit http://www.spectrumsurgical.com to learn more about our rigid and flexible endoscope services.
About Spectrum Surgical Instruments
Spectrum Surgical Instruments has been providing a full line of surgical instruments, cleaning brushes, instrument accessories and educational programs for Human health since 1983. Spectrum is a leading provider of surgical instrument repair, sharpening and restoration services. Spectrum Surgical provides surgical equipment to surgery centers across the United States.
We have taken a leading role in the industry by providing free educational resources about surgical instrument care. The goal is to educate those who come in contact with surgical instruments to ensure that all are aware of the impact they have on patient safety. Our commitment to quality has led us to increase our quality systems and improvement initiatives. We work directly with customers and industry leaders to offer technology, preventive maintenance and quality products designed to improve patient