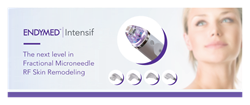 Maximum results with no downtime as well as the highest level available of patient comfort delivered throughout.
New York (PRWEB) July 09, 2015
EndyMed Medical Ltd. and the FDA-approved Intensif microneedling handpiece were featured on The View, a popular American talk show, on Monday, June 29th 2015. The segment, entitled "Beauty Breakthroughs", featured esteemed New York dermatologist, Dr. Doris Day, who took The View moderator, Oscar-winner Whoopi Goldberg, and guest co-host, supermodel Molly Sims, through the latest and greatest in beauty technologies, treatments and products. While demonstrating a live procedure using EndyMed's Intensif microneedling handpiece, the hosts discussed the device's ability to address aesthetic skin issues like skin rejuvenation, acne scarring, stretch marks and discoloration on patients of all ages, races and skin types.
The segment highlighted EndyMed's proprietary 3DEEP® Radiofrequency technology, which is delivered through the non-insulated tapered gold needles of the Intensif handpiece, to boost the body's own natural production of collagen. Dr. Day and the co-hosts of The View also discussed that patients experience little to no discomfort while undergoing the procedure and no downtime. To further prove the effectiveness of the device and handpiece, several before and after patient photos from practices across the globe were included and shown throughout.
EndyMed's 3DEEP® Radiofrequency technology provides patients and providers in the U.S. with several unique advantages. The non-insulated, gold plated tapered needles of the Intensif deliver consistent energy to customized and targeted depths for maximum results with no downtime as well as the highest level available of patient comfort delivered throughout. Additionally, the multiple modality platform system also easily allows for combination treatments in one device, making EndyMed a complete tool for any aesthetic practice. In fact, the efficacy of EndyMed's proprietary technology was further proved and presented at the recent World Congress of Dermatology, where EndyMed was included in 4 poster presentations.
Dr. Doris Day is a board-certified dermatologist who specializes in laser, cosmetic and surgical dermatology in New York City. Dr. Day is affiliated with Lenox Hill Hospital in New York City and is a Clinical Associate Professor of Dermatology at the New York University Langone Medical Center. In addition to regularly lecturing on the art of techniques of soft tissue fillers, laser treatments and facial rejuvenation, Dr. Day is the author of two books – Forget the Facelift: Turn Back the Clock with Dr. Day's Revolutionary Four-Step Program for Ageless Skin and 100 Questions and Answers About Acne.
This segment is also featured on The View's official website, abc.go.com/shows/the-view, which has a unique visitor reach of 899,237. Below, you will find a link to the segment online:
Link to EndyMed Intensif Segment - The View
About EndyMed Intensif
The Intensif microneedling handpiece has been clinically proven to provide a revolutionary collagen remodeling solution for acne scars, pockmarks, deep wrinkles and stretch marks. It works by applying an array of gold-plated, tapered micro-diameter needles deep into the skin to precisely deliver radiofrequency energy. Since radiofrequency technology targets water instead of melanin, Intensif provides a safe & efficient option for fractional skin remodeling in people of all skin types—including those with darker skin, lighter/more sensitive skin, and even tanned skin in the summer months.
Intensif provides the only mechanized, shock-free needle insertion that physicians can completely control, including needle depth, allowing for 5 times deeper treatments than fractional lasers and 3 times faster treatments than other needle technologies available today. While older fractional remodeling technologies left scarring, redness, risk of hyperpigmentation, Intensif offers a fresh look at microneedling, targeting deeper layers of the skin (up to 3.5 MM) with little to no epidermal damage.
About EndyMed Medical
EndyMed Medical Ltd., established in 2007, offers energy based aesthetic treatment systems for the professional markets. EndyMed's proprietary 3DEEP® radiofrequency technology is a unique solution for fractional and non-ablative wrinkle treatment, skin tightening on both the face and body, body contouring and acne scar treatment. Through the three dimensional interaction of multiple RF sources, 3DEEP® RF creates deep thermal patterns in the tissue which is a novel and effective approach to aesthetic treatments. For more information, please see our website at http://www.endymed.com.