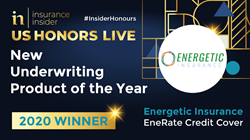 EneRate Credit Cover is the missing link to unlock affordable financing for commercial renewable energy projects.
BOSTON (PRWEB) December 03, 2020
Energetic Insurance, an insurtech firm based in Boston, announced that its EneRate Credit Cover® product was selected as the New Underwriting Product of the Year. The selection was made during a virtual awards ceremony for the US Honors 2020, hosted by Insurance Insider.
Energetic Insurance was founded by energy industry veterans James Bowen and Jeff McAulay. The co-founders set out to create an insurance product that would enable more financial institutions to participate in renewable energy project finance, even when the commercial and industrial (C&I) energy buyers lacked public credit ratings or they were considered below investment grade. Energetic partnered with the world's fourth largest reinsurance company, SCOR, to create the EneRate Credit Cover® insurance policy to solve this persistent financing gap in the clean energy industry.
"On behalf of the entire team at Energetic Insurance, I'm thrilled that we have been recognized by Insurance Insider for this prestigious award. Renewable energy installations for C&I businesses have lagged behind other market segments, even though they are large users of electricity. We believe this insurance policy is the missing link to unlock affordable financing that can help C&I achieve the scale enjoyed by the residential and utility segments," said James Bowen, Co-founder & CEO of Energetic Insurance.
The EneRate Credit Cover® product was selected among other innovative products chosen as finalists for the award by a panel of senior executives in the insurance industry. The other finalist companies were AXA XL, Brit Global Specialty USA, and CAN Insurance.
Jeff McAulay, Co-founder & President of Energetic Insurance said, "We developed EneRate Credit Cover® to solve a critical financing barrier in the clean energy industry through innovative underwriting and technology-driven actuarial risk modeling. This award is further recognition that the insurance community can have an impact on energy and climate-tech deployment."
Energetic Insurance operates as a Managing General Underwriter (MGU) with initial capacity provided by SCOR, allowing project financiers to benefit from SCOR's AA-/Aa3 credit rating and unlocking access to more attractive financing options.
Ben Savage, Partner at Clocktower Technology Ventures, a fintech and insurtech investor, said "We offer our sincere congratulations to our portfolio company Energetic Insurance for this award. As a venture investor in financial services, we were excited to be an early investor in the groundbreaking work to create the EneRate Credit Cover® insurance policy. Financial and insurance innovation has an important role to play in addressing sustainability and climate change. Energetic is a great example of an insurtech firm who is leading the way on climate finance innovation."
Renewable energy projects can purchase EneRate Credit Cover® to protect against corporate offtaker payment default risk for up to a 10-year term on projects with non-residential customers, including both distributed and utility scale facilities.
Energetic Insurance is a venture-backed company which includes investments from Congruent Ventures, Powerhouse Ventures, Clocktower Technology Ventures and Clean Energy Venture Group. Energetic Insurance is also the recipient of grants and other awards from the Massachusetts Clean Energy Center, the New York State Energy Research and Development Authority (NYSERDA), and the US Department of Energy Solar Energy Technologies Office (SETO). To date, Energetic Insurance has raised $5 million including grant funding.
------------------------
NOTE: This release does not constitute and is not intended by Energetic Insurance or any of the entities mentioned in this release to constitute a solicitation for any insurance business.
About Energetic Insurance (http://www.energeticinsurance.com):
Energetic Insurance is a Managing General Underwriter (MGU) with a novel, data-driven approach to develop new risk management products to unlock exponential growth in the renewable energy industry. Our first product, EneRate Credit Cover™, unlocks solar project financing for unrated and below investment grade counter parties by covering counterparty credit risk.
Headquartered in Boston, Energetic Insurance was awarded a SunShot Prize from the US Department of Energy in 2017 and has received a total of $5M in financing to date. EneRate Credit Cover™ and other insurance policies are issued by RE3 Energetic Insurance Solutions, LLC, a wholly owned subsidiary of Energetic Insurance, Inc. Energetic Insurance complies with all state-mandated regulations for surplus line insurance brokers and is licensed as a surplus lines broker in Massachusetts with License #: 2053916.
About Clocktower Technology Ventures (http://www.clocktowerventures.com):
Clocktower Technology Ventures partners with entrepreneurs who have the vision and drive to reinvent financial services, investing from the earliest seeds of startup life to businesses scaling for growth. CTV supports leading companies across all sectors of financial services, including lending, payments, insurance, asset management, personal finance, and capital markets. CTV's distinctive approach to fintech venture capital is crafted around a curated network of global macroeconomic thinkers and investors. Launched in 2015, CTV is the technology investing affiliate of Clocktower Group, a global macro investment firm. CTV is based in Santa Monica, CA and invests worldwide.