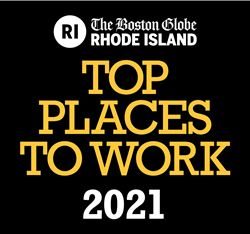 This program will enable us to celebrate more well-deserving businesses in New England and support their growth by providing business intelligence that advances recruitment efforts and builds employee engagement."
EXTON, Pa. (PRWEB) April 27, 2021
Energage – a purpose-driven technology company that empowers workplace excellence – today announced the launch of the Rhode Island Top Places to Work awards program, which will operate in partnership with The Boston Globe. Having successfully worked with The Boston Globe to honor hundreds of organizations in Massachusetts since 2008, Energage will now work with The Globe to expand the Top Places to Work program to recognize organizations in Rhode Island for their commitment to workplace excellence.
Starting today, organizations across Rhode Island with more than 35 employees are eligible to submit a nomination to be named among the Rhode Island Top Places to Work. All participating organizations will be evaluated based on feedback from a confidential, 24-question employee engagement survey. The survey, developed by Energage people scientists, leverages the industry's most robust benchmarks based on Energage's 15 years of research and data from 70,000 organizations and 23 million employees.
"It is because of our more than 13-year partnership with The Boston Globe—one of this country's most respected news organizations — that we have been able to build the nation's premier employer recognition program." said Doug Claffey, founder and chief strategy officer of Energage. "Today, we are proud to continue our work with The Globe to expand the Top Places to Work awards program to Rhode Island—a state that means a lot to me personally. This program will enable us to celebrate more well-deserving businesses in New England and support their growth by providing business intelligence that advances recruitment efforts and builds employee engagement."
Organizations that participate in the Top Places to Work program are eligible for regional and national awards for the 12 months following the completion of their survey. Participants also have the opportunity to receive data-based insights from the employee feedback that allows them to differentiate and stand out as a top place to work and do business.
The Rhode Island Top Places to Work program is now accepting nominations through May 28, 2021, via https://topworkplaces.com/nominate/rhodeisland. Recipients will be announced digitally on BostonGlobe.com in Winter 2021.
About Energage
Making the world a better place to work together.™
Energage is a purpose-driven company that helps organizations turn employee feedback into useful business intelligence and credible employer recognition through Top Workplaces. Built on 15 years of culture research and the results from 23 million employees surveyed across more than 70,000 organizations, Energage delivers the most accurate competitive benchmark available. With access to a unique combination of patented analytic tools and expert guidance, Energage customers lead the competition with an engaged workforce and an opportunity to gain recognition for their people-first approach to culture. For more information or to nominate your organization, visit energage.com or topworkplaces.com.