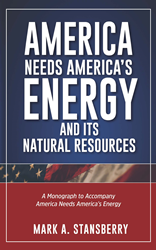 A classified mission to Sherwood Forest to drill for oil.
DALLAS (PRWEB) February 08, 2023
Energy leader, Mark A. Stansberry, discusses new WWII documentary SHERWOOD FOREST: TOP-SECRET with narrator and actor Barry Corbin, best known for his early days in West Texas, and his journey into film beginning with his first role in Urban Cowboy, and more recently his roles in Yellowstone and Tulsa King. Sherwood Forest shines light on a little-known story of a top-secret mission that took place in Sherwood Forest in Nottinghamshire, England. Ironically, the very same forest regaled in the mythical tale, Robin Hood and his Merry Men.
Executive producer/producer, Mark A. Stansberry, an energy industry thought leader, author, and host of the (OGGN) 'The Energy Fellows' Podcast says, "Corbin does a superb job of delivering the narrative of a story that carries such a historical and impactful commitment to World War II and its winning efforts." Stansberry's long-time friend and Oscar winning producing partner of the film, Gray Frederickson who recently passed, agreed.
In 1943, a team of Oklahoma Roughnecks were sent on a classified mission to Sherwood Forest to drill for oil––a mission that saved Britain and the entire world from collapsing to Hitler's 3rd Reich. This true story captures the best of what we are capable of in the worst of times.
The story's relevance remains just as predominant today as it did then with regards to the importance of energy. Aside from the documentary, Stansberry addresses these key points in his book America Needs America's Energy: Creating Together the People's Energy Plan (2012), as well as in his newest release, America Needs America's Energy and Its Natural Resources: A Monograph to Accompany America Needs America's Energy (Kindle Edition, August 2022).
Stansberry says, "to meet the challenges ahead we need to be informed about natural resources and how they apply to our lives and future generations." He further adds, "as consumers of energy, we should drive the process, evaluating how we can best leverage our natural resources here at home to assure long-term energy independence and security.
America Needs America's Energy and Its Natural Resources addresses our country's natural resources: crude oil, gas, solar, wind, biofuels, nuclear, and hydrogen––and provides readers with a tool for conversation and constructive debate.
To learn more about "The Energy Fellows" Podcast with focus on energy, natural resources, and thought leadership, please visit: https://theenergyfellows.com/
Link to documentary information: https://www.okhistory.org/historycenter/sherwood-form
Books are available on amazon.com – https://amzn.to/40mBZqi ; https://amzn.to/3WUMlLf
# # #