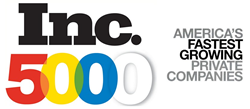 "We applaud their well-deserved inclusion on the Inc. list this year," said Corey Quiring, Sr. Director of Corporate Retail Services at C&S Wholesale Grocer
Davis, California (PRWEB) September 18, 2017
Engage3, which helps retailers and brands enhance their pricing performance through data science and analytics, today announced its placement on Inc. magazine's 36th annual Inc. 5000 — the most prestigious ranking of independent businesses. Engage3 placed in the Top 1,500 companies on the list with a three-year sales growth of 274%.
"Our team is truly honored to be recognized by Inc. this year. This achievement is a testament to the measurable value and impact we are delivering every day to our clients," said Ken Ouimet, Founder & CEO of Engage3. Companies such as Dell, Domino's Pizza, LinkedIn, Microsoft and Zillow gained their first national exposure as honorees of the Inc. 5000.
"Engage3's innovative platform is distinctive in the market, and we depend on their solutions to deliver value to our consumers and our company. We applaud their well-deserved inclusion on the Inc. list this year," said Corey Quiring, Sr. Director of Corporate Retail Services at C&S Wholesale Grocers.
This recognition comes on the heels of Engage3 announcing a $12 million Series B investment in the company just last month, which is helping fuel the continued growth and success of the company.
"Engage3's innovations in retail pricing are resonating with customers in very meaningful ways and it shows through their growth," said Lokesh Sikaria, Managing Partner of Moneta Ventures and one of the participating firms in the Series B investment round. "The company is bringing great pride to the entire Sacramento region and the city of Davis, CA where they are headquartered. We are excited to be a part of their journey."
About Engage3™
Engage3 specializes in helping brands and retailers optimize their pricing and promotion performance. The company works at the forefront of personalized pricing solutions, leveraging competitive intelligence combined with leading-edge analytics to enable brands and retailers to improve ROI of trade funds 500% over traditional pricing and promotions activity. Our MissionControl™ SaaS platform is powered by advanced predictive analytics and driven by our historical product and pricing database, which currently consists of over 8 million UPCs and 10 billion price updates per year across 30,000 retail locations. Engage3 is recognized by IDC Retail Insights as a first mover in providing participatory commerce solutions for retailers and manufacturers. Learn more at http://www.engage3.com.
About Inc. Media:
Founded in 1979 and acquired in 2005 by Mansueto Ventures, Inc. is the only major brand dedicated exclusively to owners and managers of growing private companies, with the aim to deliver real solutions for today's innovative company builders. Winner of the National Magazine Award for General Excellence in both 2014 and 2012. Total monthly audience reach for the brand has grown significantly from 2,000,000 in 2010 to over 18,000,000 today. For more information, visit http://www.inc.com.