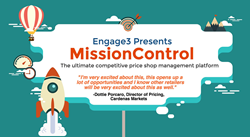 It's also helping us understand our competitors' private label strategies, which can be invaluable." - Cardenas Markets
Davis, CA (PRWEB) November 05, 2015
Engage3, a pioneering competitive retail intelligence and digital marketing solutions provider, launched its new competitive intelligence platform during Revionics' Sixth Annual Customer Forum in Austin, Texas from October 18th-20th. MissionControl is the culmination of the company's 40+ years of experience in retail pricing, its robust product and pricing database, and the company's philosophy of "Better Data. Smarter Decisions. Bigger Results."
"The problem with traditional competitive price checks is that there's significant lag time between ordering the price check, receiving the data, then being able to execute against that data," said Steve Vallance, VP of Purchasing at Cardenas Markets, a Southern California-based Hispanic supermarket chain. "Not to mention the inconsistencies that arise when you send your own staff to do price checks with pen and paper or Excel on their phones. The MissionControl platform solves these and other challenges."
MissionControl is an End-to-End Competitive Price Shop Management Platform that enables the planning, scheduling, execution, reporting, and modification of online and in-store competitive data collection. Members schedule and assign price shops to store associates or 3rd party vendors, and monitor real-time progress across all active projects. MissionControl supports inferred mapping of comparable brands, explicit mapping of comparable brands and mapping store-level assortments and planograms. The platform features advanced statistical modeling to optimize the accuracy of incoming pricing data. MissionControl employs proprietary algorithms to optimize shop-list sampling, maximize ROI and gain competitive insights while minimizing sampling costs.
"It's been shown that inaccurate pricing data has a direct impact to a retailer's bottom line, in some cases the cost to a retailer might be over 40 basis points of sales in profit," said Engage3 Founder, Ken Ouimet. "We leverage mobile technology, big data, and our deep domain experience to remove dependencies that slow down the competitive shop process while managing increasingly complex price shop methodologies to improve accuracy, find rates, and item comparability."
At present, MissionControl supports pricing decisions and competitive insights for a member base with approximately $20 billion of revenue under management. Members leverage MissionControl for the collection, cleansing, and reporting of competitive data as well as to understand their competitors' private label strategies and price zones.
"We're very excited about the opportunities that MissionControl has opened up," continues Steve Vallance. "Engage3's platform has significantly enhanced our competitive visibility across all of our markets by reducing the time it takes to understand and respond to our competitors' pricing, thereby enabling us to maintain our intended price image. It's also helping us understand our competitors' private label strategies, which can be invaluable."
"Shopper-centric price management and optimization is more critical today than ever for retailer success, and accurate competitive data is an important element of the multiple data sources feeding Revionics' pricing algorithms," said Revionics CTO Dave Thompson. "Engage3's new MissionControl platform is making in-store competitive data easier to collect and more accurate, helping to ensure better precision in our price recommendations."
MissionControl v1.0 is available today for retailers, manufacturers, and other competitive data providers. Please contact info(at)engage3.com for further details.
About Engage3
Engage3 provides market intelligence to our customers and partners. We shorten the time it takes to respond to market changes and have automated the process of intelligence gathering to help you trust and act on your data. Our participatory commerce platform works with retailers, manufacturers and media outlets to deliver personal shopping experiences and provide increased sales and market share. Engage3 intelligent sales agents support consumer media and app providers in creating marketplaces reaching millions of consumers. More information is available at http://www.engage3.com.
About Cardenas Markets, Inc.
At Cardenas Markets our customers are part of the family. Our commitment is to make your shopping experience unique and enjoyable, and to provide you with an excellent selection of quality products, with specialties and flavors from Latin America. From our house to yours, we are proud to serve you. More information is available at http://www.cardenasmarkets.com.