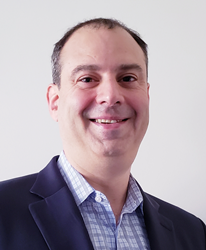 DAVIS, Calif. (PRWEB) August 20, 2019
Engage3, which helps retailers and manufacturers manage their Price Image through accurate competitive data, data science, and Artificial Intelligence-powered software solutions, today announced the appointment of Jonah Ellin as its new VP of Product. He will be responsible for aligning Engage3's product portfolio to the needs of the market and scaling the product development team to build the next generation of data-science-fueled pricing tools. Ellin has 23 years of experience in price optimization, product management, technology, consulting, and analytics.
"Jonah's experience in managing price optimization products and development teams in high-growth organizations is a huge asset for Engage3. We are thrilled to welcome a product leader like Jonah to join us in bringing the next-generation of price image optimization solutions to the market," says Ken Ouimet, Engage3's CEO.
Ellin joins Engage3 from Rubicon Global, where he was VP of Product Development, delivering SaaS products for SmartCities and fleet management. Prior to Rubicon, Jonah spent almost 7 years at dunnhumby, leading product development for Price and Promotion and Category Management Solutions and growing the team from 20 to 100+ members.
"I look forward to working with the impressive team at Engage3 to simplify the complex decisions in retail pricing and Price Image management," says Ellin.
Before dunnhumby, Jonah was at Information Resources Inc. (IRI) for 10 years, working in every area of the business including: measurements science requirements, project management, six sigma, and product management. His team at IRI launched a number of products including data platforms for 7-Eleven & Costco, and analytic products including price and promotion performance measurement and mix-marketing. Before IRI, Jonah worked in management and technology consulting with clients including AIG, RR Donnelley, Abbott Labs, Nationwide, and Zurich Insurance.
Ellin received his Bachelors in Political Science degree from University of Illinois at Urbana-Champaign.
About Engage3
Engage3 was founded by the creators of KhiMetrics (acquired by SAP), who are credited with inventing the retail price optimization space. Engage3's leadership team is composed of former KhiMetrics, SAP, Revionics, dunnhumby, KSS Retail, and IBM/DemandTec executives.
Engage3's Price Image Management Suite™ helps retailers understand and manage their Price Image and align it with their sales and profitability objectives using predictive modeling. The suite includes Competitive Intelligence Management (CIM) - an AI-assisted, attribute-based, and data science-driven solution that provides accurate, granular competitive data (30 billion product pricing records collected annually in the U.S. and Canada) and like-item-linking visibility. CIM helps retailers reverse-engineer their competitors' pricing and assortment strategies across channels, markets, and items. Also included in the suite is Price Image Optimization (PIO) – a next generation pricing solution that defines the impact of strategic pricing alternatives and unlocks pricing recommendations based on a retailer's objectives for Price Image, sales, and profitability.
For more information, visit http://www.engage3.com.