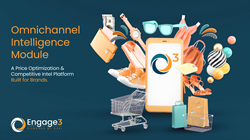 "Our Omnichannel Intelligence module is proven to help brands increase sales, lower data costs, strengthen brand loyalty, and win market share." said Edris Bemanian, Engage3 CEO.
DAVIS, CALIF. (PRWEB) February 09, 2023
Engage3 powered by Dexi, which helps retailers and brands profitably grow revenue and drive store trips by tracking and optimizing their Price Image, today announced the launch of their Omnichannel Intelligence module targeted at brands. The new Omnichannel Intelligence module will be a part of the award-winning Engage3 Price Image Management suite.
The Engage3 Omnichannel Intelligence module combines the world's most complete and accurate omnichannel data, robust Machine Learning-powered item linking, comprehensive competitive intelligence reporting, and Price Image elasticity models to help brands monitor and improve omnichannel performance. Brands are empowered to monitor the in-store and digital shelf, track share of search, review location-based analytics, quantify image and e-commerce compliance, and measure consumer sentiment.
Unlike legacy intelligence solutions, the Engage3 Omnichannel Intelligence module is powered by 5 complementary data sources and leverages advanced automated digital data capture technology that removes data gaps and gives complete up-to-the-minute visibility into brand execution and category performance both in-store and online. Engage3's ML-powered product linking cleanses and harmonizes all the collected data to provide brands with contextualized visibility across all their competitors' offerings. A comprehensive reporting platform helps brands visualize where they are winning and losing on a moment-by-moment basis and instantly react to competitors, answer all of their omnichannel execution questions, and determine the optimal price execution using Price Image elasticity models.
Engage3 Partners with Moët Hennessy: Moët Hennessy Selects Engage3 Powered by Dexi as Price Intelligence Partner
Engage3 Acquires Dexi.io: Engage3 Cements Position As Competitive Pricing Leader with Acquisition of Dexi.io
"For many years, brands have had to rely on inadequate legacy digital shelf solutions that were plagued with data gaps, data quality issues, and failure to scale," said Edris Bemanian, Engage3 CEO. "The Engage3 Omnichannel Intelligence module provides brands with comprehensive brand execution tracking across both online and in-store, combining state-of-the-art automated data capture technology, deep industry experience, and global support, to help ensure proper execution. Our Omnichannel Intelligence module is proven to help brands increase sales, lower data costs, strengthen brand loyalty, and win market share."
Dozens of leading brands across Fast Moving Consumer Goods, Toys, Electronics, Adult Beverages, and more are already leveraging the Engage3 Price Image Management suite. Brands leveraging the Engage3 Omnichannel Intelligence platform typically see a 2-3% increase in sales and a 40% reduction in data acquisition costs. A leading electronics brand has already increased its competitive visibility by 10x while improving data and decision quality.
"Engage3 gives us everything we need to execute our omnichannel strategy, said the brand's eCommerce Lead. "It's the single source of truth that tells us how we're doing, what our competitors are doing, and what we need to do to keep winning."
About Engage3 Powered By Dexi
Price optimization pioneers Ken and Tim Ouimet created Engage3 to revolutionize the way brands and retailers engage with their shoppers. Engage3 provides the industry's most comprehensive omnichannel intelligence solution, combining best-in-class AI-enabled web crawls, professional in-store audits, and self-serve in-store and online data collection into a single source of truth. Leveraging advanced algorithms and the Nobel Prize-winning Efficient Frontier theory, Engage3 helps retailers and brands track and optimize their Price Image to profitably accelerate revenue growth, drive incremental store trips, and increase margins.
Engage3 Powered By Dexi serves more than 300 customers in 182 countries, supporting $2 trillion in global retail revenue. Engage3's leadership team is composed of former executives from KhiMetrics, Mozenda, SAP, Revionics, dunnhumby, KSS Retail, IBM/DemandTec, and Nielsen. Engage3 headquarters in Davis, California.