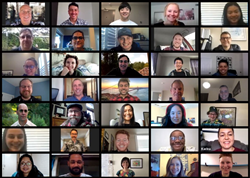 "2021 is shaping out to be a great year for us as we've already brought on more new customers than the last two years combined. We look forward to another year of rapid growth and transformation all thanks to the strength of our team, our product roadmap and, of course, our fantastic customers."
DAVIS, Calif. (PRWEB) March 16, 2021
Engage3, which helps retailers and brands profitably grow revenue and drive store trips by tracking and optimizing their Price Image, has today announced that they have been ranked #124 on the second annual Inc. 5000 Regionals: California list, the most prestigious ranking of the fastest-growing California-based private companies. Born of the annual Inc. 5000 franchise, this regional list represents a unique look at the most successful companies within the California economy's most dynamic segment—its independent small businesses.
Companies that made the list for California grew, on average, 535 percent between 2017 and 2019—even while the broader United States economy grew just 10 percent. As an Inc. 5000 Regional honoree, Engage3 shares the honor with companies like Intuit, Zappos, Under Armour, Microsoft, Jamba Juice, Timberland, Clif Bar, Pandora, Patagonia, Oracle, and other notable alumni.
In 2019 alone, the companies listed employed more than 40,000 people and added nearly $7 billion to the California economy. Companies based in major metro areas—Los Angeles, the Bay Area, and San Diego—brought in the highest revenue overall.
"Being home to Silicon Valley, the competition for this recognition in California is incredibly steep, so we are very proud to represent Davis, CA and the greater Sacramento Capital Region on this list," said Edris Bemanian, Engage3's CEO. "2021 is shaping out to be a great year for us as we've already brought on more new customers than the last two years combined. We look forward to another year of rapid growth and transformation all thanks to the strength of our team, our product roadmap and, of course, our fantastic customers."
"This list proves the power of companies in California no matter the industry," says Inc. editor-in-chief Scott Omelianuk. "The impressive revenues and growth rates prove the insight and diligence of CEOs and that these businesses are here to stay."
About Engage3
Engage3 was founded by the creators of KhiMetrics (acquired by SAP), who are credited with inventing the retail price optimization space. Engage3's leadership team is composed of former KhiMetrics, SAP, Revionics, dunnhumby, KSS Retail, IBM/DemandTec and Nielsen executives.
International Data Corporation (IDC) recently positioned Engage3 as a Leader in its MarketScape Vendor Analysis Report for changing the game and leading the next frontier in strategic pricing solutions. Engage3 has also been listed in the Inc. 5000 for 4 years in a row since 2017.
Engage3's Competitive Intelligence Management (CIM) is an AI-assisted, attribute-based, and data science-driven solution that provides accurate, granular competitive data (30 billion product pricing records collected annually in the U.S. and Canada) and like-item-linking visibility. CIM helps retailers reverse-engineer their competitors' pricing and assortment strategies across channels, markets, and items. Price Image Management (PIM) is a next generation pricing solution that defines the impact of strategic pricing alternatives and unlocks pricing recommendations based on a retailer's objectives for Price Image, sales, and profitability. Engage3's Price Image management solutions help retailers understand and manage their Price Image and align it with their sales and profitability objectives using predictive modeling.
More information is available at http://www.engage3.com.