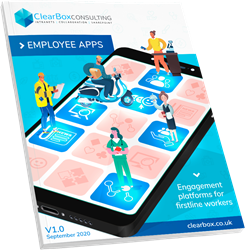 "We know HR and Internal Comms pros want non-technical guidance around engaging every employee with modern platforms. We release our new app report after months of critical research to highlight the gaps that apps fill in the digital workplace." — Suzie Robinson, report editor, ClearBox Consulting
CHESTER. United Kingdom (PRWEB) September 30, 2020
ClearBox Consulting released their employee apps report that assesses the leading workforce communication apps in detail.
"We know from our previous intranet report that HR and Internal Comms pros want non-technical guidance around engaging every employee with modern platforms. We release our new app report after months of critical research to highlight the gaps that apps fill in the digital workplace." — Suzie Robinson, report editor, ClearBox Consulting
There are over 60 workforce management and communication apps on the market, so selecting the one that meets the organization's requirements often relies on anecdotal recommendations. The ClearBox report not only highlights the best apps and vendors available, but shows how they perform in common business scenarios, with easy-to-read ratings and commentary.
Distributed teams and those who work in store, on the shopfloor, and in the field have been considered 'hard to reach' for many years. Employee apps address frontline workers at a time when fewer people are sitting in offices with their laptops, and more people are comfortable with their phone apps. While the workplace has traditionally ended at the door, employee apps for personal or work-provided phones put the digital workplace in people's pockets.
Beyond mere chat, these enterprise-grade employee apps help teams communicate and collaborate, ensure everyone has access to corporate information, and finally make top-down communication to the frontlines easy. If shadow technologies (such as personal WhatsApp groups) are being used among employees, then these app products are an especially valuable alternative for businesses to offer, as they provide governance and security features.
Employee apps bring corporate news to the individual's timeline, enable them to chat with colleagues, help users find project or company information and documents, manage tasks, and perhaps even participate in bite-size e-learning. These types of apps can be very successful in retail, hospitality, logistics, catering, and healthcare, and can be crucial for any organization that needs to connect frontline and deskless workers.
The ClearBox report:

430-pages
17 in-depth evaluations of leading employee apps
9 business-focused scenarios and scores
Price-band guidance
Dozens of screenshots in each review, which you won't find anywhere else
Product focus charts (showing intended focus on communications, operations, HR, and general digital workplace matters)
Ready-to-go indicator, showing how little (or how much) work is needed
Sector focus icons, showing natural appropriateness for industries / sectors
Additional listings to catalogue 5 more apps
Immediate download.
ClearBox is an independent consultancy, and vendors are led through the nine scenarios and scored and reviewed without bias.
ClearBox's employee apps report is available at a special launch price, and will help HR leaders, Internal Communications Directors, and Operations Managers choose the best-fit app to engage their entire workforce - and without the need for a long IT project.
About ClearBox
clearbox.co.uk
ClearBox Consulting is a specialist independent consultancy that helps to make the workplace a better and more productive experience. ClearBox understands enterprise technologies but approaches the digital workplace from the people side first. Specialising in business challenges, ClearBox develops strategies and plans to support the selection, rollout, design, and governance of intranet platforms, employee apps, collaboration tools, and internal communication channels
LinkedIn | Twitter | Reports | Blog
Contact
Please contact ClearBox Consulting on apps@clearbox.co.uk or +441244458746 to discuss details, arrange an interview, or request a comment.