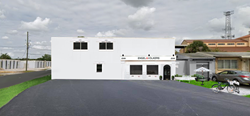 By partnering with Engel & Völkers, we will be able to provide exceptional client service and discretion using our expertise, to help the client with their unique real estate needs.
ORLANDO, Fla. (PRWEB) March 01, 2021
Engel & Völkers Florida today announced its latest franchise expansion in Central Florida with Engel & Völkers Orlando; marking the brand's fifth location in the region and 36th in the state. Local market experts Ahmed Elbatrawy and Eric L. Bolves, Esq will lead the new brokerage as License Partner and Managing Broker. The shop will be located at 2049 W Central Blvd. A grand opening is slated for later this year.
"Our mission is to provide our clients with the highest level of personal, professional service in the residential and commercial real estate industry," said Bolves. "By partnering with Engel & Völkers, we will be able to provide exceptional service and discretion using our expertise to help our clientele with their unique real estate needs."
Elbatrawy comes to Engel & Völkers from Coldwell Banker Realty Southwest Orlando, where he led the Orlando Future Team. Worldly and cultured, Elbatrawy is bilingual in English and Arabic which has been useful in conducting business all around the world, in places such as Dubai, Egypt, London, and Spain. Personally, Elbatrawy has been a multi-million dollar producer for the last twenty years. He specializes in the Orange County market, where home values have increased by nearly eight percent over the past year. Bolves is a rare combination of real estate broker and attorney at law. A graduate of University of Florida Levin College of Law, his law practice spans over 35 years. A third generation real estate professional, he understands how to best represent his real estate clients. He is also a member of the Residential Real Estate & Industry Liaison (RREIL) Committee and the Commercial Real Estate Committee of the Florida Bar.
"We are thrilled to expand our presence in Central Florida with Ahmed and Eric," said Peter Giese, Chief Growth Officer at Engel & Völkers Florida. "Our core focus is on expanding into new markets throughout Florida with individuals who have a growth-orientated mindset and align with our core values. The Orlando area will continue to grow as a strong market for luxury primary residences and second homes that fit our clients lifestyles. Ahmed and Eric understand the nuances of the home buying and selling process in 2021; which includes all aspects of an individual's life and what communities their needs and desires."
Bolves and Elbatrawy are actively recruiting talented local professionals to join their team of advisors. The pair have already managed to bring on five local agents including Mohamed Abdelmoshen, Jacob Anzani, Darwin Martinez, Shady Ramzy and Marion Saunders. With the addition of Engel & Völkers Orlando, the company now has five locations in the Central Florida area, including Clermont, Downtown Orlando, Winter Park and Windermere.
"Engel & Völkers Orlando will make a wonderful addition to our ever-growing network," said Timo Khammash, Managing Partner of Engel & Völkers Florida. Central Florida has a thriving real estate market, as evident by a surge in demand, record-breaking sales prices, local home values on the rise."
Press contact:
Linzee Werkmeister, Junior Vice President, Marketing & Franchise Support
Email: Linzee.Werkmeister(at)evrealestate.com
Tel: (239) 348-9000
About Engel & Völkers:
Engel & Völkers is a global luxury real estate brand. Founded in Hamburg, Germany in 1977, Engel & Völkers draws on its rich European history to deliver a fresh approach to luxury real estate in the Americas with a focus on creating a personalized client experience at every stage of the home buying or selling process for today's savvy homeowner. Engel & Völkers currently operates approximately 225 shop locations with 4,500 real estate advisors in the Americas, contributing to the brand's global network of over 13,500 real estate professionals in more than 30 countries, offering both private and institutional clients a professionally tailored range of luxury services, including real estate, yachting and aviation. Committed to exceptional service, Engel & Völkers supports its advisors with an array of premium quality business services; marketing programs and platforms; as well as access to its global network of real estate professionals, property listings and market data. Each brokerage is independently owned and operated. For more information, visit http://www.evrealestate.com.
About Engel & Völkers Florida:
Engel & Völkers Florida is the Master License Partner of the global luxury real estate brand Engel & Völkers in the state of Florida. Recognized for uniquely recruiting, training and equipping some of the top professionals in the real estate industry, Engel & Völkers Florida's exclusive franchise model positions its license partners at the top of the premium market to gain market share and support their bottom line. The company represents franchise locations in: 30A Beaches, Amelia Island, Belleair, Boca Raton, Bonita Springs-Estero, Cape Coral, Clermont, Delray Beach, Destin, Fort Lauderdale, Fort Myers Downtown, Gainesville, Islamorada, Jacksonville, Jacksonville Beach, Jacksonville at Beaches Town Center, Jupiter, Madeira Beach, Marco Island, Melbourne Beachside, Melbourne Central, Melbourne Downtown, Miami Coconut Grove, Olde Naples, Orlando Downtown, Orlando-Winter Park, Palm Beach, Palm Coast, St. Augustine, St. Pete, Stuart, Wellington, and Windermere.
Engel & Völkers Florida is continuing to strategically strengthen and expand its presence in premium real estate markets across the state of Florida. If you would like to know more about the Engel & Völkers brand or how to join its global network—which is known for demonstrating competence, exclusivity and passion, feel free to call our corporate office, located at 633 Tamiami Trl N, Suite 201, Naples, FL 34102 USA. Tel: +1 239-348-9000.
For more information about Engel & Völkers Florida, please visit https://florida.evrealestate.com/