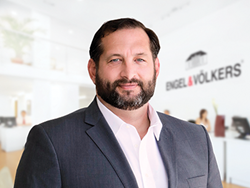 We aim to exude the same level of passion, exclusivity and competence that I have experienced first-hand with the Engel & Völkers brand.
ISLAMORADA, Fla. (PRWEB) January 14, 2020
Engel & Völkers today announced its latest expansion in the Florida Keys with Engel & Völkers Islamorada. Local market expert John Gallant will lead the brokerage as License Partner and Broker. Gallant formerly owned Blue 9 Realty, Inc. which has now converted to Engel & Völkers. The shop is located at 90773 Old Highway, Suite 5, Tavernier. A grand opening is planned for February 22, 2020 to allow the community to tour the new space and meet their team.
"I align with all of Engel & Völkers' core values," said Gallant. "This move graduates my advisors and me to a position where we can offer an elevated level of service to our clients like we never could before. We aim to exude the same level of passion, exclusivity and competence that I have experienced first-hand with the Engel & Völkers brand."
Gallant comes to Engel & Völkers with nearly 10 years of industry experience. Prior to joining Engel & Völkers, Gallant owned and operated Blue 9 Realty Inc., formerly Heritage Realty. While he owned Blue 9 Realty Inc., Gallant facilitated the opening of three new locations; Tavernier, West Palm Beach and Cartagena, Columbia. Gallant is also the founder of Florida Keys Business Brokers, Treasurer of The Upper Keys Rotary Club and is a strong advocate for communities throughout the Florida Keys.
"We are thrilled to be able to serve Islamorada with a market expert like John," said Peter Giese, Chief Growth Officer of Engel & Völkers Florida. "As we continue our expansion throughout the Florida Keys, we are focused on entering unique markets with strong partners, including Big Pine, Key Largo, Key West, the Lower Keys and Marathon."
Islamorada, named after early Spanish explorers, consists of a village of six islands, offering an abundance of waterfront properties. With some of the best fishing and diving in the United States, Islamorada has been named the "Sportfishing Capital of the World" and flourishes through its popular tourism industry.
"The Florida Keys are an especially unique market," said Gallant. "Our real estate industry is driven by wealth, with many properties being a second, third or even fourth residence for some owners. As a result, affordable housing is a concern shared by almost everyone on the islands. Investors have profited on abundant rental opportunities, especially vacation rentals. Our rental market is slightly softer than usual right now, and landlords are increasingly turning to real estate agents and the MLS to find good tenants. For nearly the last decade, the only difficulty in filling vacant rentals was fielding four calls per hour, although that is no longer the case. On the sale side, inventory has been moving faster than usual lately, and I believe that reduction in days on market is directly correlated to an increase in price reductions."
###
Press contact:
Linzee Werkmeister, Director, Public Relations & Franchise Support
Email: Linzee.Werkmeister(at)evrealestate.com
Tel: (239) 348-9000
About Engel & Völkers:
Engel & Völkers is a global luxury real estate brand. Founded in Hamburg, Germany in 1977, Engel & Völkers draws on its rich European history to deliver a fresh approach to luxury real estate in the Americas with a focus on creating a bespoke, white-glove concierge client experience at every stage of the home buying or selling process for today's savvy homeowner. Engel & Völkers currently operates approximately 175 shop locations with more than 3,000 real estate advisors in the Americas, contributing to the brand's global network of over 11,000 real estate professionals in more than 30 countries, offering both private and institutional clients a professionally tailored range of luxury services, including real estate, yachting and aviation. Committed to exceptional service, Engel & Völkers supports its advisors with an array of premium quality business services; marketing programs and platforms; as well as access to its global network of real estate professionals, property listings and market data. Each brokerage is independently owned and operated. For more information, visit evrealestate.com.
About Engel & Völkers Florida:
Engel & Völkers Florida is the Master License Partner of the global luxury real estate brand Engel & Völkers in the state of Florida. Recognized for uniquely recruiting, training and equipping some of the top professionals in the real estate industry, Engel & Völkers Florida's exclusive franchise model positions its license partners at the top of the premium market to gain market share and support their bottom line. The company represents franchise locations in: 30A Beaches, Belleair, Boca Raton, Bonita Springs-Estero, Cape Coral, Clermont, Delray Beach, Destin, Fort Lauderdale, Fort Myers Downtown, Islamorada, Jacksonville, Jacksonville Beach, Jupiter, Orlando Downtown, Leesburg, Madeira Beach, Marco Island, Melbourne Downtown, Melbourne Central, Miami-Coral Gables, Olde Naples, Orlando-Winter Park, Palm Beach, South Tampa, St. Augustine, St. Pete, Stuart, Wellington, and Windermere.
Engel & Völkers Florida is continuing to strategically strengthen and expand its presence in premium real estate markets across the state of Florida. If you would like to know more about the Engel & Völkers brand or how to join its global network, which is known for demonstrating competence, exclusivity and passion, feel free to call our corporate office, located at 633 Tamiami Trl N, Suite 201, Naples, FL 34102 USA. Tel: +1 239-348-9000.
For more information about Engel & Völkers Florida, please visit evfranchise.com