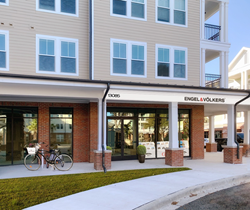 Carrie managed to attract top local talent to her new Engel & Völkers Gainesville shop before she had even secured a physical location.
GAINESVILLE, Fla. (PRWEB) March 16, 2021
Engel & Völkers Florida today announced Engel & Völkers Gainesville, one of the company's newest franchises, will be opening at Tioga Town Center in Newberry, Florida. License Partner, Carrie Cason has been recruiting top local talent including Lynn Haller, Kimberly Mitchell, Anna Olcese, Emily Roberts and Tracey Todd.
"After learning about Engel & Völkers, I knew this was something that Gainesville sorely needed," said Cason. "Thanks in large part to the brand platform, I was able to recruit some of the top realtors in Alachua County. Our real estate advisors are highly-trained, dedicated to their profession and truly understand the unique needs of each client in the North Florida real estate market. Our advisors are all excited to provide a luxury experience to all clients, regardless of price point."
Engel & Völkers Gainesville will be located at 13085 SW 1st Lane, Suite 40, Newberry, FL 32669 in Tioga Town Center. Tioga Town Center takes pride in combining the best of a big city with the charm of a small community to bring the residents and guests the ultimate convenience through a mix of living, shopping, working and dining. Dedicated to outstanding quality in design and construction, the shopping mall includes 23-acres of mixed-use development, 100,000 square feet of retail and office space, as well as The Flats, 184 units of luxury residential space. It is the gateway to the fastest growing area in Alachua County, the Town of Tioga, a 500-acre master-planned community. Nearly $1,000,000,000 worth of real estate is transacted annually in Alachua County. The median purchase price was $257,000 of nearly 3,000 sales conducted in 2020.
"Carrie managed to attract top local talent to her new Engel & Völkers Gainesville shop before she had even secured a physical location," said Peter Giese, Chief Growth Officer at Engel & Völkers Florida. "That's a testament to her skill and likeability as a broker, as well as the strength of Engel & Völkers' brand platform. This situation simply mirrors what we have seen in all the markets we operate within the state of Florida, and once again demonstrates how Engel & Völkers fills an unmet need for a collaborative global network and industry-leading services that top realtors want to affiliate with."
Cason recruited Haller, Mitchell, Olcese, Roberts and Todd from companies such as Coldwell Banker M.M. Parrish Realtors, Keller Williams Gainesville Realty Partners and Swift Creek Realty; together, they have conducted more than 1,000 transactions, totaling over $513,000,000. Cason came to Engel & Völkers after 10 years at Swift Creek Realty, a local, family-owned real estate agency. She was also previously affiliated with Westfield Realty Group and RE/MAX Professionals. She has been in the real estate industry for more than twenty years, earning her brokers license in 2004 and designations such as the GRI and CCIM along the way. Her specializations include residential real estate, new construction and corporate relocation. She has completed over 650 transactions throughout her career, totaling a volume of more than $160,000,000. She also holds a Bachelor's Degree in Business Administration and Public Relations from the University of Florida.
###
Press contact:
Linzee Werkmeister, Junior Vice President, Marketing & Franchise Support
Email: Linzee.Werkmeister(at)evrealestate.com
Tel: (239) 348-9000
About Engel & Völkers:
Engel & Völkers is a global luxury real estate brand. Founded in Hamburg, Germany in 1977, Engel & Völkers draws on its rich European history to deliver a fresh approach to luxury real estate in the Americas with a focus on creating a personalized client experience at every stage of the home buying or selling process for today's savvy homeowner. Engel & Völkers currently operates approximately 225 shop locations with 4,500 real estate advisors in the Americas, contributing to the brand's global network of over 13,500 real estate professionals in more than 30 countries, offering both private and institutional clients a professionally tailored range of luxury services, including real estate, yachting and aviation. Committed to exceptional service, Engel & Völkers supports its advisors with an array of premium quality business services; marketing programs and platforms; as well as access to its global network of real estate professionals, property listings and market data. Each brokerage is independently owned and operated. For more information, visit http://www.evrealestate.com.
About Engel & Völkers Florida:
Engel & Völkers Florida is the Master License Partner of the global luxury real estate brand Engel & Völkers in the state of Florida. Recognized for uniquely recruiting, training and equipping some of the top professionals in the real estate industry, Engel & Völkers Florida's exclusive franchise model positions its license partners at the top of the premium market to gain market share and support their bottom line. The company represents franchise locations in: 30A Beaches, Amelia Island, Belleair, Boca Raton, Bonita Springs-Estero, Cape Coral, Clermont, Delray Beach, Destin, Fort Lauderdale, Fort Myers Downtown, Gainesville, Hollywood Beach, Islamorada, Jacksonville, Jacksonville Beach, Jupiter, Madeira Beach, Marco Island, Melbourne Beachside, Melbourne Central, Melbourne Downtown, Miami Coconut Grove, Neptune Beach, Olde Naples, Orlando, Orlando Downtown, Orlando-Winter Park, Palm Beach, Palm Coast, South Tampa, St. Augustine, St. Pete, St. Pete Beach, Stuart, Wellington, and Windermere.
Engel & Völkers Florida is continuing to strategically strengthen and expand its presence in premium real estate markets across the state of Florida. If you would like to know more about the Engel & Völkers brand or how to join its global network—which is known for demonstrating competence, exclusivity and passion, feel free to call our corporate office, located at 633 Tamiami Trl N, Suite 201, Naples, FL 34102 USA. Tel: +1 239-348-9000.
For more information about Engel & Völkers Florida, please visit http://www.florida.evrealestate.com