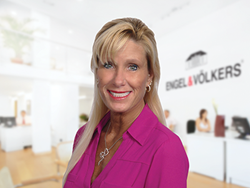 The support I receive from the Engel & Völkers Florida team is unmatched
ORLANDO, Fla. (PRWEB) December 04, 2019
Engel & Völkers today announced that their Winter Park real estate brokerage is under new ownership. Lisa Reed is now the License Partner and Broker of Engel & Völkers Orlando Winter Park. This marks Reed's fourth brokerage, the most owned by any single License Partner in the state of Florida. Reed also owns Engel & Völkers Clermont, Engel & Völkers Leesburg and Engel & Völkers Windermere.
"The support I receive from the Engel & Völkers Florida team is unmatched," said Reed. "Success starts from the top down, so knowing they are always there to cheer me on is something I truly value and appreciate."
After earning her real estate license in 2000, Reed worked as a real estate agent at Century 21 Professional Group before obtaining her broker's license in 2002. By 2003, Reed was managing the company's third location and built it from the ground up to a productive 70-agent office. In 2005, Reed made the decision to go out on her own and became a franchisee of Avalar Real Estate Services, also known as Better Homes Realty. She grew that office to over 80 agents, before converting to Engel & Völkers in 2017. Most recently, Reed's Clermont shop was awarded the 2018 Most Transactions award within the Engel & Völkers Florida sector at their annual Leadership Summit.
"The array of marketing tools streamlined international brand identity and access to successful Engel & Völkers advisors around the world, who are all willing to collaborate, is what really drew me to Engel & Völkers. Through all of this, I have been able to reach my five-year plan in just over two years."
Engel & Völkers has maintained a presence in the Winter Park community since 2011. The shop is currently located at 558 W New England Ave Suite 120, Reed plans to relocate to a larger space down the street in early 2020. A grand reopening is planned for the first quarter of 2020.
"Lisa is one of our most ambitious License Partners," said Peter Giese, Chief Growth Officer of Engel & Völkers Florida. "That is clearly evident by her operational size. We are committed to supporting her and her advisors as they strive to become a dominating force in their local markets."
Reed will serve as License Partner and Broker of Engel & Völkers Orlando-Winter Park alongside previous Managing Broker, David Alderman. Currently, the shop has 11 advisors, although Reed and Alderman are looking to recruit another nine talented local professionals to join their team of advisors.
About Engel & Völkers
Engel & Völkers is a global luxury real estate brand. Founded in Hamburg, Germany in 1977, Engel & Völkers draws on its rich European history to deliver a fresh approach to luxury real estate in the Americas with a focus on creating a bespoke, white-glove concierge client experience at every stage of the home buying or selling process for today's savvy homeowner. Engel & Völkers currently operates approximately 175 shop locations with more than 3,000 real estate advisors in the Americas, contributing to the brand's global network of over 11,000 real estate professionals in more than 30 countries, offering both private and institutional clients a professionally tailored range of luxury services, including real estate, yachting and aviation. Committed to exceptional service, Engel & Völkers supports its advisors with an array of premium quality business services; marketing programs and platforms; as well as access to its global network of real estate professionals, property listings and market data. Each brokerage is independently owned and operated. For more information, visit evrealestate.com.
About Engel & Völkers Florida:
Engel & Völkers Florida is the Master License Partner of the global luxury real estate brand Engel & Völkers in the state of Florida. Recognized for uniquely recruiting, training and equipping some of the top professionals in the real estate industry, Engel & Völkers Florida's exclusive franchise model positions its license partners at the top of the premium market to gain market share and support their bottom line. The company represents franchise locations in: 30A Beaches, Belleair, Boca Raton, Bonita Springs-Estero, Cape Coral, Clermont, Delray Beach, Destin, Fort Lauderdale, Fort Myers Downtown, Jacksonville, Jacksonville Beach, Jupiter, Leesburg, Madeira Beach, Marco Island, Melbourne Downtown, Melbourne Central, Miami-Coral Gables, Olde Naples, Orlando Winter Park, Palm Beach, South Tampa, St. Pete, Stuart, Wellington, and Windermere.
Engel & Völkers Florida is continuing to strategically strengthen and expand its presence in premium real estate markets across the state of Florida. If you would like to know more about the Engel & Völkers brand or how to join its global network, which is known for demonstrating competence, exclusivity and passion, feel free to call our corporate office, located at 633 Tamiami Trl N, Suite 201, Naples, FL 34102 USA. Tel: +1 239-348-9000.
For more information about franchise opportunities with Engel & Völkers Florida, please visit http://www.evfranchise.com
For more information, please contact:
Linzee Werkmeister, Director, Public Relations & Franchise Support
Email: Linzee.Werkmeister(at)evrealestate.com
Tel: (239) 348-9000