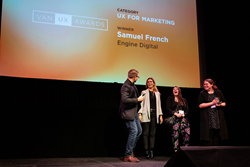 VANCOUVER, British Columbia (PRWEB) December 13, 2018
Engine Digital, a digital consultancy with studios in Vancouver and New York City, was recently awarded for its work at the 2018 Vancouver User Experience Awards, held November 29th. Of the six categories awarded, Engine Digital took home two awards for its work with Samuel French and BC Hydro.
Samuel French is the leader in publishing and licensing of plays and musicals for Broadway, community theater, and school productions. Working with the agency's New York City studio, Samuel French has been a client partner since 2016 when Engine Digital was selected to lead a ground-up e-commerce redesign for the organization's US and UK markets.
As Samuel French has placed a focus on digital channels for growth, Engine Digital developed an e-commerce platform strategy that not only provides a better merchandising experience but helps visitors seek out and find the right products for their particular needs. Early results have shown increased user engagement including a rise in returning visitors. The new Samuel French website won best UX for Marketing.
BC Hydro is the main distributor of electricity for the Canadian province of British Columbia, serving 1.8 million customers. Engine Digital has worked closely with BC Hydro since 2008, leading a range of strategy and design initiatives for various business units.
One of the more extensive and innovative projects the two companies have collaborated on is the Power Smart For Schools digital platform, a web-based application that provides interactive teaching materials to educators across the province. The platform's objective is to bring conservation curriculum into the classroom. As the role of technology in education continues to evolve, new tools like Power Smart for Schools can supplement traditional classroom learning while helping educators alleviate resource challenges. The Power Smart For Schools platform won the UX for Good award.
See all of the Vancouver User Experience Awards categories and finalists.
ABOUT SAMUEL FRENCH
Samuel French is the world's leading publisher and licensor of plays and musicals. The company's catalog features some of the most acclaimed work ever written for the stage and titles by writers at the forefront of contemporary drama. Samuel French is proud to have served as a leader in theatrical publishing and licensing for over 180 years and is committed to the future by championing for playwrights, innovating the industry, and celebrating all those who make theatre around the world. For more information, visit http://www.samuelfrench.com.
ABOUT BC HYDRO
BC Hydro is a government-run electric utility company serving 1.8 million customers and generating over $5 billion in annual revenue for the province. Through its focus on clear customer communication and a shift towards a self-serve model, BC Hydro continues to engage Engine Digital on an extensive list of digital initiatives, and build upon a strong client-agency partnership that began in 2008. For more information, visit http://www.bchydro.com.
ABOUT ENGINE DIGITAL
Engine Digital is a New York City and Vancouver based digital consultancy, product design, and engineering studio. The agency's mission is to help ambitious organizations invent their future through better customer experiences that span web, mobile, and emerging digital channels. Founded in 2002, Engine Digital is a trusted partner to some of the world's most recognized brands including Mastercard, HP, Google, adidas, Lululemon, and the NBA. For more information, visit http://www.enginedigital.com.
Media inquiries: avannostrand(at)samuelfrench(dot)com and media(at)enginedigital(dot)com