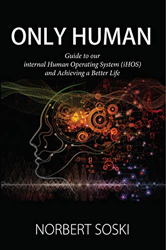 A clear understanding of human nature is a prerequisite for success and happiness.-Kirkus Reviews
LOS ANGELES (PRWEB) February 20, 2019
After working as an engineer for some of the top defense corporations in America, Norbert Soski started to hit personal barriers in life and work and needed a change. The idea of an operational manual for life developed into his debut book "Only Human: Guide to our internal Human Operating System (iHOS) and Achieving a Better Life." Soski's career as an engineer and a student of spirituality and personal growth for over 30 years, shaped this new approach to improving the lives of others.
Taking a new approach from the wealth of spiritual enlightenment books out today, "Only Human" looks at human nature from an engineering perspective. Soski deconstructs the very nature of how people think in order to find the path to a better, more fulfilling life. Explaining human nature in comparison to that of a computer, the book integrates human spirituality with the world of science and engineering, identifying practical solutions to explore and apply to everyday life. Moreover, he does it in simple terms that everyone can use and understand.
"Human nature is real," says Soski, "and we all experience it equally. For us to be successful in life, we need first to understand it, pay attention to it, and ultimately, interact with it correctly. Once we clear up the complexities, assimilating the detailed information in this book should take our thinking and behavior to a different level."
"Only Human" teaches how to change and grow by understanding the internal Human Operating System (iHOS). Those that practice the iHOS learn how to let go of the blocks in their lives that are keeping them from progressing. The book offers a reading experience presented in four major sections that help the reader learn about the different aspects of their own iHOS. The following subsections explore various aspects of human nature; from base instincts and needs to how to respond to emotion.
Throughout the book, the author has laid out chapters that educate and require the reader to do the work necessary to gain a better understanding of themselves. "The book is a guide," says Soski, "on how to assess personal qualities for self-awareness, which, in due course, allows personal relationships to flourish."
Soski has written the book from a teaching perspective with the insight of a man who learned from his struggles and needs for growth. His resulting journey through that metamorphosis was incorporated into the lessons contained in "Only Human." Chapters are composed of small breaks in the form of exercises in order to encourage the reader to put the book down and do the work to reap the full experience. "Only Human" teaches the reader to defragment their life to escape the make-believe world and start living in reality.
"Only Human" is available at NorbertSoski.com, Barnes & Noble, and Amazon.
Praiseworthy reviews:
"Most people misunderstand what human nature is, maintains Soski in his nonfiction debut. Often people use the idea as an excuse for failings ("What do you want from me? I'm ONLY HUMAN!!!"). This, he says, is the source of much of the frustration and misdirection in life, since a clear understanding of what makes up human nature is a prerequisite for success and happiness. A wide-ranging spiritual interpretation of human nature." — Kirkus Reviews
3.5 STARS "Readers looking for inspiration, for spiritual guidance, or for a practical way to (re) organize their lives will do well to consider Norbert Soski's ONLY HUMAN... Misanthropester
Author Bio:
Norbert Soski graduated with a BSEE from the University of Southern California, Los Angeles. Formerly the Engineering Manager at Renau Electronic Laboratories, while at Rocketdyne, Soski was the Product Team Leader for the RS-68 (Delta IV) and J-2X Engine Control Units. For Boeing, he was the Electronic Design subject matter expert for Unit Systems Engineering. He worked at the following commercial, industrial, and aerospace companies during his career: Renau Electronic Laboratories, Moog Space and Defense, Aerojet Rocketdyne (former Rockwell, Boeing, and UTC), Teledyne Systems Company, Del-co Systems Operations, and Mattel Toys, Electronics Division.
Soski now travels the country speaking on his concept of the internal Human Operating System.
Learn more at NorbertSoski.com