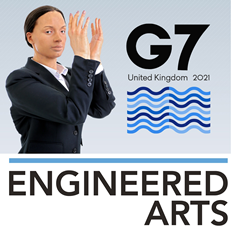 "What we create at Engineered Arts is a representation of a future we aspire to—with people and robots working together for entertainment, service, and learning. We welcome all G7 visitors to Cornwall." Morgan Roe, Director of Operations at Engineered Arts
CORNWALL, United Kingdom (PRWEB) May 25, 2021
Engineered Arts, a UK company that creates the most memorable interactive character experiences through humanoid robotic development, today announced that its Mesmer-series robot will be present to greet guests attending G7 UK 2021 at the 'Cornwall House Partner Event' from June 11 to 13th. With its operations also based in Cornwall, Engineered Arts employs hardware, software, and visual arts professionals to develop captivating robots with human-like movement and social behaviours. An Engineered Arts robot previously met and welcomed G7 heads of state including German Chancellor, Angela Merkel and David Cameron, Former Prime Minister of the United Kingdom.
This year's G7 representatives from the UK, United States, Germany, France, Canada, Italy, and Japan will meet in Cornwall, which UK Prime Minister Boris Johnson called the "perfect location for such a crucial summit." Other participants from Australia, India, South Korea and the EU will also attend the G7 summit, greeted in the most unique way by Engineered Arts at the 'Cornwall House' hosted by Falmouth Arts College, showcasing the best manufacturing, commercial, consumer and tourism attractions that Cornwall has to offer.
The G7 (or Group of Seven) is an organisation made up of seven of the world's largest advanced economies governed by "a community of values," dedicated to freedom and human rights, democracy and the rule of law, prosperity, and sustainable development as its key principles. This will be the first face-to-face G7 since the COVID-19 pandemic started.
"The G7 Summit is an opportunity to collaborate and address our many challenges and aspirations for a better planet—and unite behind the goal of a better future," said Morgan Roe, Director of Operations at Engineered Arts. "What we create at Engineered Arts is a representation of a future we aspire to, with people and robots working together for entertainment, service, and learning. We welcome the world to Cornwall," added Roe.
Visit Engineered Arts
Engineered Arts will offer members of the press and G7 attendees a live tour of its factory and robotics workshop—located only two miles from the G7 Media Village at the Maritime Museum in Falmouth. Contact Daniel Bragg (daniel@engineeredarts.co.uk) for more information and tour details.
The Engineered Arts team can create any robot figure in as little as four months. To learn more about Engineered Arts, the Mesmer-series robots, and how to purchase or rent a robotic or humanoid creation, visit: https://www.engineeredarts.co.uk/
###
About 'Cornwall House Partner Event' at G7
The Cornwall Chamber of Commerce, Manufacturing Group, Department for International Trade, and Cornwall Trade & Investment collaborated to deliver a Manufacturing & Export Zone and a Food & Drink Export Zone at the G7 UK 2021 'Cornwall House' expo, located at the Falmouth Arts College. Cornwall House will showcase the breadth, excellence and diversity of enterprise in Cornwall—organized by the Cornwall Development Company and the Cornwall and Isles of Scilly Local Enterprise Partnerships.
About Engineered Arts
Engineered Arts, Ltd. integrates a talented team of engineers and creatives, working together to produce technology that lives and breathes entertainment. At the heart of its robotic humanoids is Tritium, Engineered Arts' cloud based operating system for robot animation, interaction, maintenance and content distribution. For more information visit: https://www.engineeredarts.co.uk/.