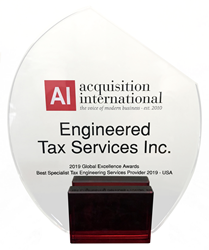 WEST PALM BEACH, Fla. (PRWEB) November 04, 2019
CEO of Engineered Tax Services Inc., Julio Gonzalez received the 2019 Global Excellence Award for Best Specialist Tax Engineering Services Provider.
This award comes with great honor since it was given by AI Acquisition International – the voice of modern business. AI is the leading voice for corporate business and is committed to bringing its readers up to the minute news, comment, and analysis. The goal of AI is to continue to provide vital updates for corporate readers on the best of the best in the industry.
Engineered Tax Services Inc., was recognized by other companies and individuals within the specialty tax industry, as a company that has shown excellence in their field and continues to provide stellar service in the areas of tax savings, accuracy, dedication to improving new tax laws and bringing awareness to our clients and the community.
We thank our team and everyone that contributed to this achievement.
Julio Gonzalez is a leader in the specialty tax community and has earned the respect of his peers due to his extensive optimizing knowledge. He is an in-demand speaker who appears at national industry conferences and community events. Gonzalez is a regular guest on news networks where he is brought on as an expert for tax reform and tax sophistication for wealth preservation.
About Engineered Tax Services, Inc.
Engineered Tax Services, Inc. (ETS) is a licensed engineering firm that focuses on federal, state, and local tax benefits. Founder and CEO, Julio Gonzalez, is an expert in tax reform whose strong presence is helping define our current tax laws. Under Gonzalez's guidance and true insight into how the industry is shaping, Engineered Tax Services is one of the largest, fastest-growing, and most innovative engineering, energy, and specialty tax credit services firm in the country. Visit us at http://www.engineeredtaxservices.com.