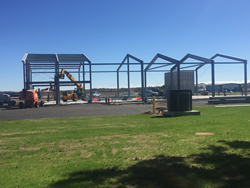 "with the level of design and engineering that go into our buildings Rubb is positively changing the perception of fabric buildings" Dave Nickerson, Rubb President
SANFORD, Maine (PRWEB) October 24, 2018
Sanford/Seacoast Regional Airport, the fourth busiest airport in Maine, recently engaged Rubb Building Systems to engineer and provide a tensioned roof fabric facility to house snow removal equipment, a maintenance area, a heated sand shed along with offices and administrative space.
"Rubb has a good relationship with our local airport (Rubb is located in the Airport Industrial Park) and we have always wanted to provide a building for the airport," states Rubb Marketing Manager Chuck Auger.
"When the City of Sanford, ME, along with airport management, approached Rubb about conceptually designing and engineering a multi-purpose fabric facility, Rubb was all in."
The building will be completed later this month (October 2018) and is 60' x 120' x 19.7', with office space, bathroom facilities, a 2nd floor mezzanine, multiple bays for equipment storage along with a maintenance area and a radiant heated sand storage area.
"This one building takes care of all the immediate needs of the airport's administration, maintenance, and operations, while also being designed to accommodate future expansion," adds Auger. "Our buildings, though often perceived to be basic fabric storage facilities, can be adapted and designed to service many purposes."
"Rubb has been wonderful to work with and were very open to many of my design ideas; this building is truly custom," asserts Sanford Airport manager Allison Rogers. "Rubb took this "hybrid" challenge head-on and worked closely with a local architectural firm. I was really surprised that a fabric roofed building can be so flexible"
This Sanford Airport structure has been engineered to withstand the very heavy local snow load (70 psi) and will be cladded with Rubb's patented Thermohall® insulation system. This building is incredibly well built and rugged.
"We are excited to have an innovative project to show off in our backyard," states Rubb President Dave Nickerson. "The Sanford/Seacoast Regional Airport is a former WWII Naval Air Station and is locally best known to be the landing destination of Air Force One during the Bush Presidencies. Rubb has been engineering, manufacturing and installing tension membrane structures since 1983."
Rubb buildings are noted for their quality components, flexibility in design, energy efficiencies, and quick construction. With little or no maintenance, Rubb is the industry leader in cost effective storage solutions. Buildings can be equipped with Rubb's patented Thermohall® insulation system and can support most door systems along with HVAC, dehumidification and lighting systems.
"A lot of folks still call us a 'tent manufacturer', but with the level of design and engineering that go into our buildings Rubb is positively changing the perception of fabric buildings" declares Nickerson.
Notes to editors
About Rubb Building Systems
Rubb Building Systems is a world leader in the design and manufacture of custom made relocatable engineered fabric structures.
Highlights include ground-breaking military buildings (aircraft hangars, shelters, storage facilities), specialist aviation buildings and structures for a variety of sectors including sport, ports, construction, bulk storage and environmental (waste and recycling).
All products are designed and manufactured at Rubb's USA plant in Sanford, Maine.
The Rubb Group also has plants in the UK, Norway and Poland.
Rubb Inc
One Rubb Lane, Sanford, Maine 04073
http://www.rubbusa.com