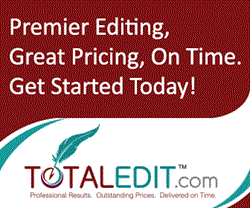 The tendency is for people to wait until they find themselves unexpectedly unemployed to revamp their résumé.
Boston, MA (PRWEB) February 19, 2014
Brittany Stoker, Chief Content Marketing Officer and Senior Editor at TotalEdit.com, an English editing service startup, has taken several years of experience writing and editing résumés to provide a list of the top five rules for a successful résumé.
1. Leave out objective statements. First, Brittany notes that résumé writers should omit objective statements altogether. "Sometime over the last decade, objective statements have become cheap filler that people are including on résumés to introduce themselves to prospective employers," Beverly Ellison, Vice President and Human Resources Manager at TotalEdit.com stated. "Your interview should be your objective statement. If you are an upbeat and organized person seeking advancement opportunities in a growing company, do not write it down. We want you to prove it to us."
2. A résumé should be business casual. Everyone has heard the term "business casual" used in conjunction with a dress code at a place of employment. Treat your résumé the same way—conversational while still being professional, but not so stiff and robotic that when read aloud, your résumé lacks a voice. If you do not use the word "indubitably" in real life, for example, do not use it on your résumé. Your résumé can still be professional while reflecting your personality.
3. Listed hobbies should be relevant or excluded. "Many résumés have come across my desk for editing that include information about hobbies that have nothing to do with the work we do here," Ellison noted, adding, "As a professional proofreading service, we are interested in your hobbies insofar as they are relevant to what potential applicants would be doing here. You love writing and editing? List that. Juggling and biathlon training? Leave it out."
4. Volunteer experience should always be listed and never expires. Unlike the responsibilities and job titles you include in the "experience" section of your résumé, volunteer experience is usually relevant and should always be included on your résumé. Whereas experts typically only recommend including the last three most relevant positions you have held, your volunteer experience is always a good item to include on a résumé as it demonstrates strength of character and a strong work ethic that does not die even in the absence of wages.
5. Avoid the generic resume. It seems that this would be understood, but Stoker cautions job applicants and those polishing up their résumé against the dangers of using a generic résumé. "Sending an employer a generic résumé that you have sent to a dozen other employers is transparent. Employers know you are doing it and it just doesn't show employers that you really want the job that badly." Stoker stated, mentioning that if you really want the job, you should use your generic résumé as an outline and plug in keywords from the description for the job to which you are applying.
In addition to these five rules, Stoker strongly suggests updating your résumé at least every six months. "The tendency is for people to wait until they find themselves unexpectedly unemployed to revamp their résumé," Stoker noted. "But if a résumé is hurriedly put together, or job hunters are just throwing out a generic résumé that they have been using for years, it's not going to stick. No one is going to hold onto it long enough to read the name at the top of the page. A résumé should definitely get your time and consideration every few days or every time you work on a new project, while the details of your successes are still fresh in your mind."
For more information on these and other résumé rules, see the piece that Stoker has written on The Editor's Desk, the TotalEdit.com blog.