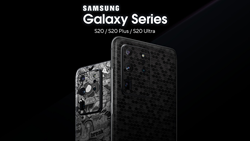 The first step you should take to protect your new Galaxy S20, S20 Plus, and S20 Ultra
WICHITA, Kan. (PRWEB) February 12, 2020
Samsung just shook up the smartphone game with the announcement of the Galaxy S20, S20 Plus, and S20 Ultra.
However, just because these new devices are more durable doesn't mean they shouldn't be babied. The glass backs will always be way too easy to scratch and scuff. The first step taken to protect the new S20 is to grab a Slickwraps skin. Rugged, resilient, grippy as hell, and cut to perfection, a Slickwraps skin enhances every device it's applied to. It doesn't hurt that Slickwraps skins are quick and easy to apply (or to remove, always to make having the newest look easy).
As the world's largest skin manufacture Slickwraps has the biggest selection of S20 Pro skins to choose from. With dozens of colors and textures to choose from on Slickwraps site, everyone will find an option to love.
Even if planning to use a case, applying a Slickwraps skin first will protect phones from marring scratches and scuffs from the sand and grit that inevitably works its way under the case. For just $12.95, its the cost-effective protection all phones need. Grab a Slickwraps skin for the S20 Plus or S20 Ultra today.