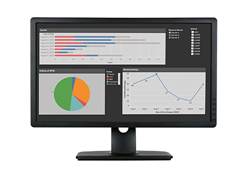 "As an Operator of over 2200+ BATMs in 42 states, nothing matters more than knowing where every dollar is. From cutting edge software to cash reconciliation, Morphis is the gold standard for cash management and tracking" Ben Weiss, CEO of Coinflip
DALLAS (PRWEB) May 25, 2021
Morphis, Inc. is releasing an unprecedented updated of its popular Crypto Kiosk Manager (SM) software package. In addition to automation and real-time transaction reporting this newest version adds dashboard glanceability to enhance the overall user experiences. The dashboard makes exceptions instantly visible and brings peace-of-mind to Bitcoin ATM operators everywhere. Balancing and reconciling cash receipts across multiple armored carriers and banks has never been easier.
Newly available features include:

Automated and real time transaction data import from crypto manufacturer
Automated and real time carrier deposit processing data import
Automated and real time bank deposit data import
According to Morphis Regional Sales Manager, Trent Pratt "Morphis' new Crypto Kiosk Dashboard provides real time data visibility which comes at a critical time for BATM owners/operators. The number of installed BATM's has doubled from Janurary 2020 to Janurary 2021."
Morphis clients will have access to a aggregated view of various sources of data which are being reconciled and balanced automatically and reporting only exceptions to manage.
"As an Operator of over 2200+ BATMs in 42 states, nothing matters more than knowing where every dollar is. From cutting edge software to cash reconciliation, Morphis is the gold standard for cash management and tracking" Ben Weiss, CEO Coinflip
Register for our next Free Webinar: Currency Supply Chain Industry: Top 3 Trends of 2021 Thursday June 3rd @ 10 AM (CST)
About Morphis, Inc.
Morphis was founded in 1999 and has become the world's leading supplier of payment systems and currency supply chain management software. Central banks, depository institutions, card issuers, armored carrier companies, BTM operators and many other companies in the consumer financial services sector use Morphis products daily. By utilizing proprietary technology, Morphis provides cutting edge, on-demand analytics, and fulfillment logistics, delivering efficient, robust solutions for enterprise cash management. Their software suite includes a customer relationship management platform; applications for cash forecasting, logistics optimization, and financial reporting; and tools for managing assets, vendors, contracts, and service tickets. Their customers have a choice of on-site licensing or SaaS licensing, ideal for larger clients, and web-based applications for small businesses.
To learn more about Morphis and the services they offer for cash-in-transit and similar businesses, visit us at http://www.morphisinc.com, or contact Trent Pratt, Regional Sales Manager at 214 803 1122 or tpratt@morphisinc.com