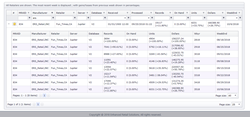 …now we offer this invaluable tool where a client can check the status of the processing as well as get a glimpse of key week over week data metrics. - Jim Lewis, Founder and CEO of ERS
NEW YORK (PRWEB) October 16, 2018
Enhanced Retail Solutions (ERS), a leading provider of Software-as-a-Service (SaaS) retail analytic and demand planning solutions to suppliers, licensors and their retail trading partners, today announced an important new software for clients' use: File Load Tracker.
Retail data must be loaded into our system to create reports. ERS has automated this process and it runs quite smoothly virtually all the time. But there can be "hiccups" in data being generated and sent by our vendor clients' retail partners: Either the timing or the data itself (in rare instances) could be off. Not only does this software show the status of a client's EDI and other data loads, clients can quickly see the number of records, sales, on hand and dollars each week that would quickly point out an anomaly.
"First we automated the loading of data to speed up the process and enable 24/7 loading - especially over the weekend when most data can be processed." said Jim Lewis, Founder and CEO of Enhanced Retail Solutions. "We then created automated emails to inform our clients that their data was processed as well as internal emails to advise what data still has not been loaded so ERS could stay on top of any processing issues – internal or external. And now we offer this invaluable tool where a client can check the status of the processing as well as get a glimpse of key week over week data metrics. We are certain the software will be exceedingly popular".
About Enhanced Retail Solutions LLC:
Enhanced Retail Solutions is a software and consulting firm specializing in Retail Analysis and Demand Planning for manufacturers, licensors and their retail partners. ERS' state of the art software tools and consulting deliver critical data quickly, easily and cost effectively, adding over one hundred million dollars to their clients' bottom line. ERS' broad customer base includes industry leaders in the electronics, consumer products, apparel, footwear, home textile, toy, home décor, home improvement, housewares, jewelry and food industries. Headquartered in New York City, Enhanced Retail Solutions has offices in the Dallas, TX and development in the US, Cork, Ireland and Delhi, India. For more information, visit http://www.EnhancedRetailSolutions.com.