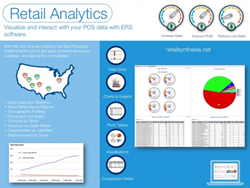 Chalk off another impactful upgrade. We remain quite focused on hearing client requests and then providing them in these cloud-based updates. - Jim Lewis, founder and CEO of ERS
NEW YORK (PRWEB) March 26, 2019
Enhanced Retail Solutions (ERS), a leading provider of Software-as-a-Service (SaaS) retail analytic and demand planning solutions to suppliers, licensors and their retail trading partners, today announces significant enhancements to its Intelligent Retail BI Platform.
Retail Synthesis, ERS' cloud based business intelligence tool provides an open, flexible, ad hoc reporting platform with automated updates and auto-delivery of reports and/or dashboards.
Major new features have been added to this software module:

More Report Elements Added to Dashboards: A user can now have up to 20 consecutive reports in a single dashboard (up from 9).
Improved formatting of emailed PDF Dashboards- Insert page breaks between each report/chart element for a more readable and polished document.
New Group Property- More ways to sort reports.
Greater ability to hide items in Reports, based on client requests.
More integration and data mapping for Omni-Channel statistics - make more sense out of Magento and other web sales data to improve forecasting and inventory productivity.
More User-Defined Customized Fields – Up to 30 user-defined custom attribute fields can now be added and mapped to Retail Synthesis.
"Chalk off another impactful upgrade" says Jim Lewis, founder and CEO of Enhanced Retail Solutions. "We remain quite focused on hearing client requests and then providing them in these cloud-based updates".
About Enhanced Retail Solutions LLC:
Enhanced Retail Solutions is a software and consulting firm specializing in retail analysis and demand planning for manufacturers, licensors and their retail partners. ERS' state of the art software tools and consulting deliver critical data quickly, easily and cost effectively, adding over one hundred million dollars to their clients' bottom line. ERS' broad customer base includes industry leaders in the electronics, consumer products, apparel, footwear, home textile, toy, home décor, home improvement, housewares, jewelry and food industries. Headquartered in New York City, Enhanced Retail Solutions has offices in the Dallas, TX and development in the US, Cork, Ireland and Delhi, India. For more information, visit http://www.EnhancedRetailSolutions.com.