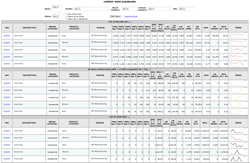 In our quest to maximize sales and optimize inventory on behalf of our clients, we have developed many tools and views for them. WYNK was developed to immediately pinpoint opportunities and liabilities without having to drill and click through data to find it. - Jim Lewies, Founder & CEO
NEW YORK (PRWEB) April 30, 2019
Enhanced Retail Solutions (ERS), a leading provider of Software-as-a-Service (SaaS) retail analytic and demand planning solutions to ecommerce and brick & mortar retailers, their suppliers, and licensors today announces The WYNK Dashboard.
As seen in accompanying screenshot, this on-line software, available to review 24/7 from any browser, is actually much more than a dashboard. The top section details Sales and On Hand of top 25 selling items for the current week and prior seven weeks, with trends graphed. The middle section focuses on key items with low weeks of supply and the bottom section details overstocked items. Filtering is enabled by person, status, vendor, category, product and even SKU. All reports maybe be exported to Excel.
"In our quest to maximize sales and optimize inventory on behalf of our clients, we have developed many tools and views for them," says Jim Lewis, founder and CEO of Enhanced Retail Solutions. "WYNK was developed to immediately pinpoint opportunities and liabilities without having to drill and click through data to find it. It is a great way for knowledgeable and less knowledgeable stakeholders to quickly and graphically study their business and inventory positions."
About Enhanced Retail Solutions LLC:
Enhanced Retail Solutions is a software and consulting firm specializing in retail analysis and demand planning for manufacturers, licensors and their retail partners. ERS' state of the art software tools and consulting deliver critical data quickly, easily and cost effectively, adding over one hundred million dollars to their clients' bottom line. ERS' broad customer base includes industry leaders in the electronics, consumer products, apparel, footwear, home textile, toy, home décor, home improvement, housewares, jewelry, vaping and food industries. Headquartered in New York City, Enhanced Retail Solutions has offices in the Dallas, TX and development in the US, Cork, Ireland and Delhi, India. For more information, visit http://www.EnhancedRetailSolutions.com.