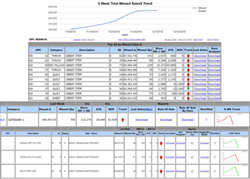 We have always listened to our clients and worked diligently to meet their needs. As the business evolves and companies become more sophisticated, this approach is the ideal way to serve their needs. - Jim Lewis, CEO & Founder of ERS
NEW YORK (PRWEB) February 04, 2020
Enhanced Retail Solutions, a leading provider of Software-as-a-Service (SaaS) retail analytic and demand planning solutions to suppliers, licensors and their retail trading partners, today announced a blended solution approach to its business. 
ERS' evolution from distinct software and consulting offerings came about from listening to its clients. More and more software clients wanted the ability to pick up the phone and ask ERS to deliver something specific to their needs. Such a solution is now baked into cost estimates and resulting configurations.
At the same time, consulting clients had a subset of needs that could be met with a self-serve database. As a company that offers both consulting and technology, ERS can meet clients' needs at whatever intersection best serves them.
"We have always listened to our clients and worked diligently to meet their needs", says Jim Lewis, CEO. "As the business evolves and companies become more sophisticated, this approach is the ideal way to serve their needs".
About Enhanced Retail Solutions LLC:  Enhanced Retail Solutions is a software and consulting firm specializing in retail analysis and demand planning for manufacturers, licensors and their retail partners. ERS' state of the art software tools and consulting deliver critical data quickly, easily and cost effectively, adding over one hundred million dollars to their clients' bottom line. ERS' broad customer base includes industry leaders in the toy, electronics, consumer products, apparel, footwear, home textile, home décor, home improvement, housewares, jewelry and food industries. Headquartered in New York City, Enhanced Retail Solutions has offices in the Dallas, TX and development in the US, Cork, Ireland and Delhi, India. For more information, visit http://www.EnhancedRetailSolutions.com.