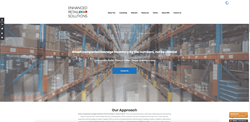 We constantly draw feedback from our clients and adapt our services to meet their needs. We've learned they want a fluid relationship - the ability to pick up the phone and ask us to deliver something specific to them or the ability to use our tools on their own. - Jim Lewis, CEO at ERS
NEW YORK (PRWEB) January 07, 2020
Enhanced Retail Solutions (ERS), a leading provider of Software-as-a-Service (SaaS) retail analytic and demand planning solutions to suppliers, licensors and their retail trading partners, today announced the re-launch of its website. 
Much of the content remains, the new format is meant to enable a faster means of accessing it and more easily digesting its contents. It also mirrors ERS' evolution from software and consulting offerings into a blend of the two.
"We constantly draw feedback from our clients and adapt our services to meet their needs. We've learned they want a fluid relationship - the ability to pick up the phone and ask us to deliver something specific to them or the ability to use our tools on their own. As a company that offers both consulting and technology, we can offer them a subscription that delivers that seamlessly", says Jim Lewis, CEO. "The new site reflects that and brings the rich set of information on our site to the forefront".
About Enhanced Retail Solutions LLC: 
Enhanced Retail Solutions is a software and consulting firm specializing in retail analysis and demand planning for manufacturers, licensors and their retail partners. ERS' state of the art software tools and consulting deliver critical data quickly, easily and cost effectively, adding over one hundred million dollars to their clients' bottom line. ERS' broad customer base includes industry leaders in the toy, electronics, consumer products, apparel, footwear, home textile, home décor, home improvement, housewares, jewelry and food industries. Headquartered in New York City, Enhanced Retail Solutions has offices in the Dallas, TX and development in the US, Cork, Ireland and Delhi, India. For more information, visit http://www.EnhancedRetailSolutions.com.