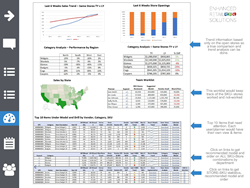 As the expression goes, we are in this together. We want to share our knowledge and experience across many verticals, suppliers and retailers in this webinar. - Jim Lewis, Founder and CEO, Enhanced Retail Solutions
NEW YORK (PRWEB) May 05, 2020
Enhanced Retail Solutions, Inventory Planning and Retail Analytic Specialists serving suppliers, licensors and their retail trading partners, The Retail Marketing Society and The Secured Finance Network announce a Webinar to help retailers and their suppliers maximize their opportunities and minimize their pain during these exceedingly difficult times.
The webinar will be held on Thursday, May 20th. Topics include:

Tracking e-comm sales - has a shift taken place?
Reviewing store level data - critical when stores start to reopen and you need to manage limited inventory
Tracking lost sales & re-forecasting
Balancing inventory
Using demographics and other attributes to determine if their impact on sales
Managing risk
Q&A
More information and registration are available here. Companies seeking more retailer-specific COVID-19 resources can find them here or by joining ERS' LinkedIn Group.
"As the expression goes, we are in this together", says Jim Lewis, Founder and CEO at Enhanced Retail Solutions. "We want to share our knowledge and experience across many verticals, suppliers and retailers in this webinar".
About Enhanced Retail Solutions LLC:
Enhanced Retail Solutions is a service-oriented business with the goal of helping retailers, suppliers and brands turn their inventory faster, forecast more accurately and provide deeper visibility to sales. With a fusion of consulting and software solutions, ERS can more specifically meet their client's needs at any level- quickly and affordably. ERS' broad customer base includes industry leaders in the electronics, consumer products, apparel, footwear, home textile, toy, home décor, home improvement, housewares, jewelry and food industries. Headquartered in New York City, Enhanced Retail Solutions has offices in the Dallas, TX and development in the US, Cork, Ireland and Delhi, India. For more information, visit https://www.EnhancedRetailSolutions.com.
About The Retail Marketing Society:
The Retail Marketing Society is a non-profit, NYC-based professional organization of executives, entrepreneurs and consultants in the retail industry. For more information, visit https://www.retailmarketingsociety.org
About SF Net:
The Secured Finance Network (formerly the Commercial Finance Association) brings together secured lenders, finance companies, factors, service providers, and others who do the important work of providing the capital that fuels our nations' economies. For more information, visit: https://www.sfnet.com/