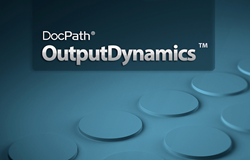 Improvements of this cutting edge Document Output Management software solution cover performance, stability and usability of the document generation and print process
SUWANEE, Ga. (PRWEB) August 02, 2018
DocPath announces important new features in its leading Document Output Management software solution, DocPath OutputDynamics. Improvements cover three key aspects of this high-performance document solution: performance, stability and usability.
In line with the company´s core principle of providing its Customers with advanced and up-to-date document software solutions that are able to respond to changing market needs, DocPath has added significant enhancements to its OutputDynamics solution.
High-Performance Document Output Management Software
In 2015, DocPath specifically developed its OutputDynamics solution for companies managing high volumes of batch documents and, thus, requiring advanced capabilities. However, DocPath OutputDynamics is much more than just high-volume printing software. It is a flexible and, above all, comprehensive Output Management document solution designed to process, generate and distribute large amounts of documents in record time, and to automatically apply a wide range of pre- and post-processes automatically, such as sorting documents by postal code, converting file format, distributing documents by e-mail and including personalized advertising (TransPromo or cross-selling).
The most outstanding features of this document software solution include a powerful generation engine that allows companies to massively generate a wide variety of document output formats in batch, as well as the option of adding external programs to their own document processes - a capability included to ensure that pre- and post-processing possibilities are as extensive and flexible as possible.
Improvements for Changing Requirements and Environments
The latest advances included in DocPath OutputDynamics are aimed at considerably improving three key aspects of this business document software solution: its overall performance, the stability of the different modules that make up the product and the usability of both the solution itself and its Web interface.
As such, the global performance levels of the document software solution have been drastically optimized, in order to support a higher workload and speed up the document processes in progress, especially for those jobs that involve a high volume of documents. To achieve those improvements, DocPath has implemented functionalities that allow faster user authentication, faster database queries, quicker responses from the OutputDynamics Web interface and, above all, the possibility of running different modules at the same time during the same document process.
Other major improvements can be found in the stability of the product. After all, software stability is vital when a manufacturer wants to guarantee agile operation of its products without interruptions or pressure. In this regard, optimized functionalities include automatic elimination of any obsolete elements, automatic compatibility checks, session error control and management of internal dependencies, as well as indexation of the information related to each document generation job.
DocPath has also made a major effort to improve the visual Web tool of OutputDynamics, part of the document software management platform which can be accessed centrally from any browser. Here, a large number of new features have been implemented to turn the user experience into a user´s best ally when configuring, generating and consulting their document processes. Those improvements include a large number of informative messages throughout each process carried out in the interface, to guide the user through each step, automatic verifications and suggestions of user input, a clearer and more modern design, and a log that stores each user's actions, complementing the existing log of launched and completed processes.
The enhancements to DocPath´s OutputDynamics business document software solution allow the document software company to respond to the growing demand from its customers, and the market in general, for high-performance, stable, easy to integrate and flexible document software that offers the best tools to cover the complete high-volume document process.
About DocPath
DocPath is a leading document software manufacturer that provides its world-wide customers the technology that allows them to implement sophisticated Customer Communication and Document Output Management processes. Created in 1993, DocPath´s solutions are found in companies all over the world. Among its international clients are prestigious banks and first class corporations, which are aided by DocPath solutions by simplifying the complicated and critical task involving the design and distribution of business and customer documents. DocPath maintains a strong commitment to R&D&I, an area that receives a good amount of its revenue, and in which lies the key to the company´s success. http://www.docpath.com.
Disclaimer: DocPath is a DocPath Corp. registered trademark. All rights reserved. Other mentioned trademarks may be property of their respective owners.