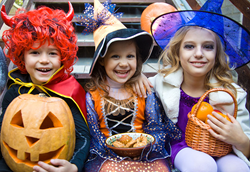 Halloween is such a fun time of year, and Grossmont Center's events make this a true gathering spot where people can come and have a great time
LA MESA, Calif. (PRWEB) October 08, 2019
Halloween is all treats and no tricks at Grossmont Center, where two popular annual events—Howl-O-Ween Hounds and Trick-or-Treat Around the Center—offer a frightfully good time for everyone.
The Howl-O-Ween Hounds MEGA Adoption Event takes place from 11 a.m. to 3 p.m. on Saturday, October 12, 2019. Hundreds of animals—dogs, cats, birds, turtles, and more—are up for adoption from dozens of reputable shelters and rescue groups. Grossmont Center hosts this event along with the San Diego Animal Support Foundation, a nonprofit that works to increase the number of pet adoptions in the area. Admission is free to this fun, family-friendly event that matches up people and pets in a happy, stress-free atmosphere.
When October 31 rolls around, Grossmont Center looks like La Mesa's biggest costume party for kids during the free 2019 Trick-or-Treat Around the Center. From 3 to 5 p.m., the Center offers a safe and festive environment for families to go trick-or-treating. Free treat bags can be picked up at Guest Services, and kids can collect candy from all participating Center shops and restaurants. Grossmont Center is proud to sponsor this event with its community partners: Casa de Pico, San Diego Oasis, Kids Hair Salon, Elam's Hallmark, and Hooleys Public House. Plus, be sure to come back the next day, November 1, when there are plenty of delightful treats in store for foodies at the exciting First Friday Night Market. Sample some of the most delicious vegan food and beverages crafted by local vendors at this lively event, held outdoors in the parking lot near Fuddruckers and Chuze Fitness. Admission is free, but bring cash or a credit card to purchase food and beverages.
"Both Howl-O-Ween Hounds and Trick-or-Treat Around the Center have become annual community traditions in La Mesa," says Trevor Moore, the Center's director of public relations and events. "Halloween is such a fun time of year, and Grossmont Center's events make this a true gathering spot where people can come and have a great time. Halloween is also the kickoff to a busy season at Grossmont Center, where we have several events coming up to celebrate the winter holidays. Also, our First Friday Night Market takes place every month and has already become a huge hit with the community since debuting here this past September. We look forward to seeing everyone soon at Grossmont Center!"
To learn more about Grossmont Center, visit http://www.grossmontcenter.com.
About Grossmont Center
Grossmont Center is an outdoor shopping center in San Diego located at 5500 Grossmont Center Drive, La Mesa, CA 91942. Grossmont Center is more than just a mall. It's an experience. With its outdoor setting, local, and national retail partners, restaurants, and year-round community events, Grossmont Center is where friendships are made, family bonds are strengthened, and memories are created. The Center is home to more than 100 unique stores, half of which are locally owned, 20 restaurants, and a movie theater. Grossmont Center occupies 1 million square feet and is sure to have something in store for everyone! For more information, including hours of operation, visit http://www.grossmontcenter.com.