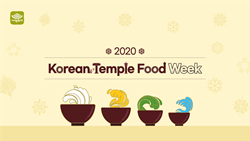 NEW YORK (PRWEB) November 26, 2020
A massive online event on Korean temple food will be held for anyone interested to easily view from home.
Starting November 23rd, the Cultural Corps of Korean Buddhism (Director Won-Gyeong, hereinafter Cultural Business Group) will run "2020 Temple Food Week," an event designed to bring the healing power of temple food to everyone at home as we navigate the world of COVID-19.
People can participate via the temple food website and Instagram, where there will be an overall introduction to this cuisine, a menu of more than 50 recipes, videos of famous chefs, and lectures. Korean food master Monk JeongKwan, star of Netflix's "Chef's Table" and winner of this year's Michelin Mentor Chef Award, will present a video of temple food cooking with gourmet critic Park Joon-woo, offering their respective philosophies and interpretations.
Monk Daeryuk and Monk Hyehae of Songgwangsa Temple in Suncheon will be featured in a cooking video with a recipe that won the Grand Prize in the 4th Temple Food Contest hosted by the Cultural Foundation this past June.
Additional content include Buddhist monks' videos on the basics of temple food, videos of famous YouTubers making recipes, and real-time online lectures, including Monk JeongKwan making potato pancakes and lotus root walnuts with local residents in conjunction with the London branch of the Korea Tourism Organization.
Concurrently running in the U.S. will be the Korean Temple Food Instagram Contest, where people are invited to post a temple food recipe of their choosing.
In addition, the company will hold an official Instagram follow-up event on temple food until November 30 and present souvenirs to 100 people on a first-come, first-served basis.
"With the worldwide spread of COVID-19, social and cultural environments such as non-face-to-face, home, and online activities are changing greatly," said Monk Won-Gyeong, director of the Cultural Business Group. "We will continue to promote the health and healing values of temple food at home and abroad by utilizing platforms tailored to these changes."
2020 Temple Food Week is available on Instagram (Korean: @korean_templefood. English: @k_templefood_eng) and the KTF website https://www.koreatemplefood.com/event/en/index.html