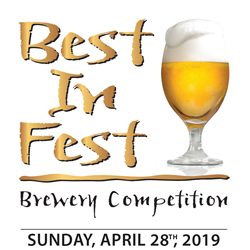 All proceeds from the "Best in Fest" Brewery Competition directly support Casa Pacifica and its vital services for foster and at-risk youth.
OXNARD, Calif. (PRWEB) April 15, 2019
The ultimate battle of the beers is almost here! Tickets are on sale now for Casa Pacifica's 6th annual "Best in Fest" Brewery Competition held Sunday, April 28th at Bottle & Pint in The Annex at The Collection RiverPark. Get your tickets today at cpwinefoodbrewfest.com. The Competition has been a welcome addition to Casa Pacifica's award-winning Angels Wine, Food & Brew Festival – delighting beer lovers and local breweries alike. The top prize has become coveted among the breweries, along with the bragging rights that come with the victory.
The "Best in Fest" Brewery Competition is a more recent addition to the Casa Pacifica events mix, open to the public for only the second year even though the competition has been crowning a winning brew for the past six years. Last year, Topa Topa Brewing Co. took home the top prize with their Chief Peak IPA. Institution Ale's Rx Pils and MadeWest's Red Rye earned honorable mentions. At this year's "Best in Fest" competition, guests will get to sample the brews alongside the judges and enjoy small bites from other Annex tenants: Seoul Sausage, Taqueria El Tapatio, and The Blend Superfood Bar.
Breweries in the running for this year's Best in Fest title are: 14 Cannons Brewery, Concrete Jungle Brewing Project, Enegren Brewing Company, Firestone Walker Brewing Company, Flat Fish Brewing Co., Institution Ale Company, Madewest Brewing Company, Ojai Valley Brewery, Red Tandem Brewery, Rincon Brewery, Seaward Brewing, Third Window Brewing, Topa Topa Brewing Co., Twisted Oak Tavern & Brewery, and Ventura Coast Brewing Co.
The judges charged with the task of determining which brew is "best in fest" are: Kevin Pratt, the nation's second highest ranked beer judge; Erin Peters, also known as "The Beer Goddess"; Monie Wickenden, Beer rep for Wine Warehouse; Bec O'Neal, Sales Rep for Stone Distribution Company; and Zach Rosen, Certified Cicerone.
All proceeds from the "Best in Fest" Brewery Competition directly support Casa Pacifica and its vital services for foster and at-risk youth. For tickets and sponsorship information on the "Best in Fest" Brewery Competition, please visit http://www.cpwinefoodbrewfest.com. For further questions please contact Anna Coulson, Special Events Manager for Casa Pacifica at (805) 366-4023, or by email at acoulson@casapacifica.org.
About Casa Pacifica
Casa Pacifica Centers for Children and Families is a crisis-care and residential treatment facility for foster or at-risk children in Ventura and Santa Barbara Counties. The agency is the largest non-profit provider of children's mental health services in both counties and administers a number of community-based programs designed to strengthen families and keep children in their homes and communities. Casa Pacifica is also a foster family agency, which recruits and trains families for potential placement with a foster youth. For more information about Casa Pacifica visit its website http://www.casapacifica.org or call the Development & Public Relations Department at (805) 445-7800.