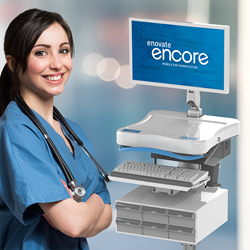 We know from our experience that nurses always want lightweight mobility and medication security
MURFREESBORO, Tenn. (PRWEB) April 06, 2021
With nursing fatigue and burnout challenging hospitals across the nation, Enovate Medical, a leading provider of EHR workstations and asset management software for hospitals, is delivering on its commitment to reduce stress for nurses with the launch of Encore RX2 medication workstation. Enovate's RX2 is the latest addition to its Encore EcoFlex workstation lineup, creating the industry's lightest, most durable, and agile medication workstation.
"We know from our experience that nurses always want lightweight mobility," explained Kevin Bridges, Enovate's Vice President of Marketing and Business Development. "With RX2, they will get a lightweight medication solution to resolve two of a hospital's clinical concerns – nursing fatigue and medication security."
To achieve a 40 percent weight reduction over traditional medication carts, Enovate built RX2 on Encore's lightweight, durable aluminum platform which includes Enovate's advanced EcoFlex power management system. This battery and power system combination drops the weight by 20 pounds resulting in a lighter, more agile medication delivery workstation that reduces nursing fatigue and maximizes mobility during long 12-hour shifts.
The Encore RX2 equipped with MobiusPower Plus offers flexible power options to fit multiple clinical workflows. During non-stop or intermittent use, a simple battery swap or parking to recharge keeps nurses moving without patient care interruptions.
When Encore RX2 is connected to Rhythm, Enovate's cloud-based asset management system, the IT team supporting nurses can remotely assign and manage end users within the hospital's Active Directory. This simple integration eliminates the security risk of sharing a PIN for medication access. In addition, the RX2's bin configurations hold medications for up to six patients which reduces the number of footsteps back and forth to the medication room giving nurses more time with patients.
"The advanced design of the Encore RX2 shines through when connected to Rhythm," explained Mark Dalen, Enovate's Chief Technology Officer. "And, it fits into the full Enovate ecosystem that includes end-user management, asset tracking, fleet maintenance, and more."
All of Enovate's mobile EHR workstations, including Encore RX2, are designed with input from nurses and IT professionals to improve clinical efficiency and simplify IT support.
ABOUT ENOVATE MEDICAL
Enovate Medical delivers innovative EHR workstation solutions, asset management software and comprehensive services for acute care hospitals that improve clinical workflows and facilitate real-time clinical documentation at the patient's bedside. Enovate Medical's specialty-focused approach enables healthcare facilities to advance the highest standards of patient care. Thousands of healthcare providers rely on Enovate Medical's solutions to enhance nurse workflows, simplify IT support, improve patient care, and deliver on the promise of today's EHR systems.
For more information, contact Dawn Wilson, Content & Event Manager at 615-896-1652 x121.