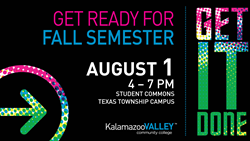 KALAMAZOO, Mich. (PRWEB) July 24, 2018
Organizational Behavior, Brewing History and Racial and Ethnic Relations are just a few of the many hundreds of courses available for the fall semester at Kalamazoo Valley.
Help registering for classes is one of the many services that will be available at the
Get it Done – Get Ready for the Fall Semester event held at Kalamazoo Valley Community College's Texas Township Campus Aug. 1 from 4 – 7 p.m. in the Student Commons.
The event will serve as a one-stop option for students, parents and community members who have questions or are interested in attending Kalamazoo Valley. Representatives from the Financial Aid Office, Office for Enrollment Management, the Admissions, Registration and Records Office, Student Activities and Organizations and Student Success Services will be on hand to assist those in attendance. Academic deans and faculty members also will be present.
"Kalamazoo Valley offers a wide variety of programs in a number of different career pathways," Executive Vice President for Instructional and Student Success Services Dr. Dennis A. Bertch said. "Information about these programs will be available at the August 1 event. I encourage you to take advantage of this opportunity to learn more about the services and programs that are available at Kalamazoo Valley."
Additionally, attendees at the Get it Done event can complete a number of the necessary steps to becoming a Kalamazoo Valley student, including: touring the Texas Township Campus, completing placement tests, talking to an academic advisor or counselor, registering for New Student Orientation and enrolling for the fall semester, which begins Sept. 4. If available, participants should bring any educational documents, including high school and college transcripts and placement test scores to ensure proper course placement.
The event is free and open to the community.
For more information, call 269.488.4100.