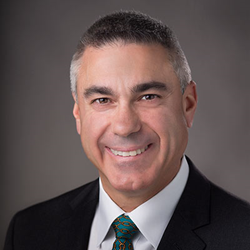 "I am honored to join the extremely talented team at EnsembleIQ and start a new journey in creating valuable, face-to-face platforms to enable our customers to solve big problems and inspire bold ideas."
CHICAGO (PRWEB) September 28, 2018
EnsembleIQ announced today that it has appointed Ed Several as executive vice president of events and conferences. He will have responsibility for all aspects of the company's extensive portfolio of events and conferences across a breadth of industries, including retail, technology, hospitality and healthcare.
"I am honored to join the extremely talented team at EnsembleIQ and start a new journey in creating valuable, face-to-face platforms to enable our customers to solve big problems and inspire bold ideas," said Several. "The well-established brands, vast access to unique shopper insights and loyal audiences attracted me to this opportunity. I look forward to meeting and working side-by-side with our customers to develop the best approaches for growing their businesses."
Several joins EnsembleIQ from Reed Exhibitions, where he served as senior vice president, Americas. Having spent 15 years at Kraft Foods prior to joining Reed Exhibitions, he brings a unique combination of classical consumer packaged good training along with 14 years of leading events such as the National Hardware Show, the PGA Merchandise Show, Global Gaming Expo (G2E), International Security Conference (ISC) and BookExpo.
"Our events are always built with our valued community in mind, with the goal of bringing the entire ecosystem of key players together to solve the industry's biggest problems," said David Shanker, CEO at EnsembleIQ. "With Ed Several, we know we've hired a true event savant and the best the industry has to offer."
About EnsembleIQ
EnsembleIQ is a premier business intelligence resource that exists to help people and their organizations succeed. It is structured to serve the business-to-business needs of retailers, consumer goods manufacturers, technology providers, hospitality and healthcare professionals, marketing agencies and retail service providers by using its integrated network of media and information resources designed to inform, connect and provide actionable marketplace intelligence. Information on EnsembleIQ can be found at ensembleiq.com.
EnsembleIQ is a portfolio company of RFE Investment Partners, a private equity investor with more than 30 years of experience investing in growth companies in partnership with strong management teams. Information on RFE can be found at rfeip.com.