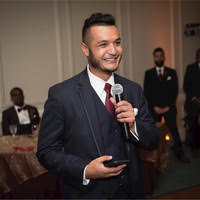 "This program celebrates a generation of emerging leaders fundamentally shaping tomorrow's corporate culture and I'm extremely proud of my team for their achievements." - David Shanker, CEO, EnsembleIQ
CHICAGO (PRWEB) November 15, 2018
EnsembleIQ is pleased to announce that its own Pablo Lopez, Sr. Data Scientist, has won the Emerging Leader Award from The Software and Information Industry Association (SIIA).
The 4th annual Emerging Leader Award was given to six rising stars, men and women 35 and under (at time of nomination), who work at Connectiv, AM&P, SIPA or SIIA member companies. Winners were announced during an awards luncheon at the Business Information & Media Summit (BIMS) on Tuesday, November 13, 2018.
In addition to Pablo Lopez winning, three other EnsembleIQ employees were announced as finalists including Randy Hofbauer, Digital & Technology Editor; Jonathan Obar, Search & Social Media Manager; and Glenn Scheithauer, Director of Software Engineering.
"EnsembleIQ is honored to have four of our employees nominated for the Emerging Leader Award this year," said David Shanker, Chief Executive Officer of EnsembleIQ. "This program celebrates a generation of emerging leaders fundamentally shaping tomorrow's corporate culture and I'm extremely proud of my team for their achievements."
A panel of SIIA executives identified the 2018 finalists, with the final five winners selected by a jury of leading business executives.
For more information on the 2018 SIIA Emerging Leader Award and to see a full list of the winners and finalists click here.
About EnsembleIQ
EnsembleIQ is the leading business intelligence platform serving the retail, consumer goods, health care, food service; pharmacy and hospitality industries focused on helping customers solve big problems and inspiring bold ideas. EnsembleIQ operates an integrated network of media brands across all retail sectors and leverages its scale to inform, connect and provide actionable marketplace intelligence to help clients achieve growth. Visit http://www.ensembleiq.com.
EnsembleIQ is a portfolio company of RFE Investment Partners, a private equity investor with more than 30 years of experience investing in growth companies in partnership with strong management teams. Visit http://www.rfeip.com.