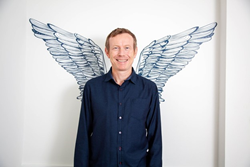 "Enshored has grown strongly for the past 17 Quarters. This is down to our obsessive focus on meeting the needs of disruptors," said Ian Jackson, CEO of Enshored
LONG BEACH, Calif. (PRWEB) May 18, 2021
Enshored, one of the fastest-growing outsourcing companies in the US, today announced a company rebrand. The brand's new design reflects the company's commitment to supporting start-ups, mobilizing the company's focus around one big idea - "powering growth."
The move cements Enshored's position as the growth partner for disruptive startups and comes in the wake of its second Inc 5000 growth award.
"Enshored has grown strongly for the past 17 Quarters. This is down to our obsessive focus on meeting the needs of disruptors," said Ian Jackson, CEO of Enshored. "We are here to support start-ups to take-off faster and stronger than they can do on their own."
Enshored employs over 1000 people, and partners with many of the world's leading digital disruptors. It provides support in Digital CX, Content Moderation, Sales & Marketing, and Back Office Support.
"If we have learned anything from 2020, it's that we have truly entered the digital age. Meeting and exceeding the needs of consumers is the job of every disruptor, and we are proud to have served and supported these start-ups to accelerate growth through the pandemic" added Jackson.
About us: Enshored (http://www.enshored.com) solves the challenges of fast-growing,​ ​​disruptive startups by delivering​ ​tailored outsourcing solutions designed for early-stage start-ups.
We design, resource, and drive, Customer Care, Back Office, Sales and Marketing, and Content Moderation service solutions. Enshored guides start-ups expertly from reactive​ ​service development to planned business expansion.
Founded in 2014 by Ian Jackson and Jeff Bauer, Enshored operates from three locations in the Philippines and is Headquartered in Long Beach, CA.