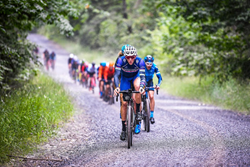 Any successful team needs to have grit, be professional, be obsessed with marginal gains, display phenomenal teamwork, and be selfless. I look forward to the team helping us deliver the marketing message of Enshored to future clients. - Ian Jackson, CEO
LONG BEACH, Calif. (PRWEB) September 27, 2019
Enshored, the leading outsourcing company for disruptive technology companies, announced that is has agreed a multi-year deal to sponsor a US based elite cycling team. The team shall be called EVOQ.BIKE p/b (presented by) ENSHORED.
EVOQ.BIKE p/b ENSHORED will make its official debut in esports starting in November of 2019 by participating in races hosted on the leading virtual cycling platform ZWIFT, resulting in their first major target as a team: Winning the 2020 USA ZWIFT National Championship in February 2020.
The team's roster includes Patrick Walle and Brendan Housler, who are both elite competitive cyclists and co-owners of EVOQ.BIKE coaching. Holding multiple state and national level championships between them, Brendan was most recently the 2018 35 + USA Masters Road Racing National Champion. Rounding out the team roster are ZWIFT racing veterans Adam Zimmerman, Greg Leo and Neil Ostenfeld. Adam was the 2018 USA ZWIFT National Champion, Greg was ranked #1 in Zwiftpower.com for the 2018/19 season, while Neil placed 4th in the 2019 USA ZWIFT National Championship race.
Ian Jackson, co-founder and CEO of Enshored.com, has long been involved in cycling from grass roots through to brand development and marketing. He recently was part of the team that has launched Fast Circles LLC (http://www.fast-circles.com), a sports marketing company, which is managing the team.
"We've been looking for a way to expand our marketing efforts. Having cycled competitively and been a part of the cycling ecosystem for many years, it is a great opportunity for Enshored. There are many aspects of a successful cycling team that tie in with the values of Enshored. A team needs to have grit, be professional, be obsessed with marginal gains, display phenomenal teamwork, and be selfless. I look forward to the team helping us deliver the marketing message of Enshored to future clients."
The team will compete in a number of different cycling disciplines throughout the year.
About Enshored
Enshored LLC is an outsourcing firm purpose-built to solve the challenges related to scaling disruptive, high growth businesses, delivering proven results by employing our unique agile operating framework and the most highly skilled associates in the industry. Founded in 2014 by Ian Jackson and Jeff Bauer, Enshored operates from three locations in the Philippines and is Headquartered in Long Beach, CA. The company has over 600 employees and works with some of the world's leading technology companies, partnering with them to deliver customer support, back office, content moderation and sales solutions. The company recently was awarded a place on the Inc 5000, for 2019, at 607th place, having achieved a 3 year growth rate of 733%.