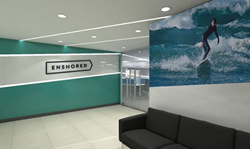 We are really excited to further increase our footprint in Ortigas, and in the JMT building. We can see that Ortigas is a prime location for attracting top talent, and the transportation and amenities there are superior to many other locations in Metro Manila. - CEO Ian Jackson
LONG BEACH, Calif. (PRWEB) January 21, 2020
ENSHORED OPENS ITS THIRD MANILA OFFICE TO MATCH RAPID GROWTH OF CLIENTS
"Opening our third office in Manila will make sure we can keep up with the growth coming both from existing and new clients."
Enshored is excited to announce the opening of its third operations center in Ortigas, Metro Manila, in The Philippines. Enshored has signed another lease for over 8000 Sq Ft of space in the JMT building on ADB Avenue. The newest office will start operating by the end of January 2020.
Enshored has been successfully operating from two offices in Ortigas and with over 700 employees. One of these is also in the JMT building, where Enshored have been working since the summer of 2016.
2019 saw Enshored once more double its headcount through continued growth from existing and new clients and by late summer it was clear a third office was needed. A number of new and existing buildings, within and outside Manila, were assessed for their suitability and compliance.
CEO Ian Jackson commented, "We are really excited to further increase our footprint in Ortigas, and in the JMT building. We can see that Ortigas is a prime location for attracting top talent, and the transportation and amenities there are superior to many other locations in Metro Manila."
Country Manager Miguel Enriquez added, "We are confident that we'll continue to improve our service delivery as well as our recruitment efforts. To have the newly renovated recruitment hub in the same building also will surely support the capacity concerns of our large clients in the US."
Operations Director Ryan Pakingan shared, "One of the real values that I see in having an expanded office within the same vicinity is the accessibility for our people. With this setup, our leadership and management team can easily move between offices as needed and be able to capitalize on this really favorable to us operationally."
Growth at Enshored is coming from both existing as well as new clients. Headcount at the fast-growing company has been increasing rapidly, after the 102% growth in 2019.
About Enshored
Enshored LLC is an outsourcing firm purpose-built to solve the challenges related to scaling disruptive, high growth businesses, delivering proven results by employing our unique agile operating framework and the most highly skilled associates in the industry. Founded in 2014 by Ian Jackson and Jeff Bauer, Enshored operates from three locations in the Philippines and is Headquartered in Long Beach, CA. The company has over 600 employees and works with some of the world's leading technology companies, partnering with them to deliver customer support, back office, content moderation, and sales solutions. The company recently was awarded a place on the Inc 5000, for 2019, at 607th place, having achieved a 3-year growth rate of 733%.
Media Contact: Lavinia Arances
larances@enshored.com
http://www.enshored.com