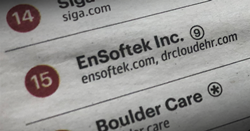 "It's an honor to receive this recognition," said Ramana Reddy, CEO of EnSoftek. "Being on this list lets me know that our team and solutions are providing real value to our customers, year over year."
BEAVERTON, Ore. (PRWEB) February 24, 2021
EnSoftek, a leading provider of health record (EHR) solutions, is pleased to announce the Portland Business Journal has ranked it as one of the top 15 Bioscience and Tech Firms in Oregon and SW Washington. EnSoftek has been a fixture on the list since the first edition in 2018.
"It's an honor to receive this recognition," said Ramana Reddy, CEO of EnSoftek. "Being on this list lets me know that our team and solutions are providing real value to our customers, year over year."
EnSoftek's DrCloudEHR™ is an innovative, state-of-the-art enterprise EHR solution deployed nationwide. Its design supports the healthcare system's growing focus on data exchange, coordination of care, and elimination of information gaps that could adversely affect positive health outcomes.
While the past year was challenging for many businesses, EnSoftek has experienced continued growth with sales to government, for-profit, non-profit, and university behavioral health care and human services providers.
"DrCloudEHR offers innovative and assistive solutions that deliver easily-accessed, value-based, and consumer-focused care when and where it's needed," said Adam Feldman, SVP Business Development. "We're excited to offer an EHR solution with fully integrated Telehealth and Unplugged features that help increase access to mental health care during a time when it is needed more than ever."
About DrCloudEHR™ and EnSoftek, Inc.
Currently in use in 26 states throughout the country, DrCloudEHR from EnSoftek is a meaningful use stage 3 certified (supporting Interoperability), native cloud electronic health records (EHR) system designed for behavioral health and human services organizations. DrCloudEHR features anytime, anywhere access that helps our customers deliver better services, improve patient care, engagement, health outcomes, and provide better overall patient satisfaction. It has become the preferred solution for behavioral health, health and human services, and integrated care providers. EnSoftek provides diversified enterprise IT solutions to both public and private sector enterprises.
Follow us on https://twitter.com/drcloudehr, https://www.linkedin.com/company/drcloudehr/, and https://www.facebook.com/DrCloudEHR/