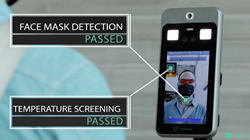 We know the importance of compliance for safety & security, and built the Turing Shield and Turing Machine to adhere to the strictest compliance protocols, such as HIPAA, CDC, OSHA, SOC2 Type1 and ISO2007. Easy to install, the Turing Shield delivers accurate, compliant mask detection in 3-5 seconds.
SAN MATEO, Calif. (PRWEB) February 01, 2021
The CDC federal transportation mask mandate goes into effect today, February 1, while the Biden Administration calls on OSHA to issue guidelines in what many are calling the "next level" of compliance from Americans to curb the spread of COVID-19 in the United States. Business leaders, employees, and travelers alike are wondering how long it will take for a solution that can ensure they meet the safety and compliance requirements. This COVID workplace and travel solution already exists and it's called the Turing Shield.
"The scanners detect masks on adults and children alike, across races, genders, and ethnicities. We uploaded hundreds of thousands of photos across all demographics, and the A.I. has become statistically 100% accurate in mask detection. If a person approaches the scanner without a mask, they cannot gain access to the facility," added Weiwei Chen, VP of Engineering at Turing Video.
As the Biden Administration adjusts the course of Federal response to the COVID-19 pandemic, many predict more mandates and regulations will be issued, designed to bring this outbreak under control.
"In the last 3 months alone, Turing Video deployed 6,750 units of the Turing Shield to customers including Salesforce, the nation's top warehouse-store chain, and even regional hospitals," said Rick Gouveia, VP Sales for Turing Video. "At 140,000 scans per day, Turing Shield scanners detected mask compliance, stored answers to the CDC health questionnaire, and scanned for high temperatures, all within 20 seconds and with an accuracy of ±0.5°F. Mask detection alone can happen within 3-5 seconds."
Data from these scans is sent to a fully-encrypted, HIPAA, OSHA and CDC compliant cloud-based storage solution called the Turing Machine. When high temperatures are detected, data stored inside the Turing Machine can be extracted to alert Public Health authorities, employees, and visitors within the 24-48 hour time period mandated by states across the country.
"We know the importance of compliance for safety and security, and built the Turing Shield and Turing Machine to adhere to the strictest compliance protocols. Our customers and the American public are worried about safely staying open, traveling safely for business, and protecting themselves from the virus. The last thing we want them to worry about is compliance, retrieval of data, or data accuracy, and our products remove those concerns. That's why we know we've created the #1 Safety and Compliance Workplace and Travel solution on the market today," said Yi Jin, Ph.D. VP of Marketing at Turing Video.
Fast Facts:

Turing Shield scanners enabled customers to detect and report 84,000 potential COVID cases in a 3-month time period
Turing Shield scanners detect masks at a statistical 100% accuracy
Turing Shield thermal temperature scanners complete more than 140,000 scans per day and detect high temperatures with a ±0.5°F temperature accuracy and at a rate of 1% of scans completed
The Turing Shield and Turing Machine solutions go beyond COVID-19 safety with additional features such as time tracking, people counting, and scanner digital signage coming soon
Turing Video was just awarded SOC 2 Type 1 compliance, and their solutions are HIPAA, CDC, OSHA, and ISO2007 compliant, while also adhering to FDA guidelines.
Turing Video has been nominated for an Edison Award for Innovation as well as a Business Intelligence Award in A.I.
Learn more about Turing Video and their suite of workplace solutions by visiting their website. To inquire about the Turing Video Channel Partner program contact: 877.730.8222 or visit https://turingvideo.com/partners/partner-program-overview/. The Turing Shield is manufactured and distributed in the United States. For questions or to order the #1 Covid Workplace and Travel solution for your facility today, visit https://turingvideo.com/thermal-scanner/ or call 866.339.4268.