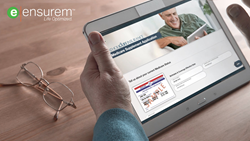 For the first time, a Medicare Supplement application is customer-centric and allows consumers to apply easily online without having to consult an insurance agent.
CLEARWATER, Fla. (PRWEB) October 18, 2018
Ensurem, LLC, an innovative technology and digital marketing platform dedicated to simplifying the process of buying insurance, announced today the launch of the first 100 percent digital application for Medicare Supplement insurance. The Medigap EZ-App was developed by Ensurem as part of its mission to streamline the insurance industry.
The e-application offers consumers the ease and convenience of purchasing Medicare Supplement insurance completely online. It uses automatic underwriting technology to produce immediate results about the consumer's qualification status.
"For the first time, a Medicare Supplement application is customer-centric and allows consumers to apply easily online without having to consult an insurance agent. The reduced acquisition and maintenance costs leads to savings that are passed onto the consumers, resulting in more competitive premiums," stated CEO and founder of Ensurem, David Rich.
Catholic Life Insurance, one of the top 10 fraternal life insurance organizations in the nation, is the first company to offer a product using the Medigap EZ-App.
Ensurem designed and built the online software from the ground up and was responsible for all development and marketing. In addition to the Medigap EZ-App, Ensurem also developed a website (catholicmedicaresupp.com) including quoting tools and educational material explaining the benefits and intricacies of Medicare Supplement insurance.
The launch of this application is a testament to Ensurem's commitment to partnering with insurance companies to offer efficient, innovative products. Ensurem has the capability to develop, support, and sell products through its digital platform.
"We are driven to transform the insurance industry through the development of new, digitally-based, consumer-friendly insurance products and procedures," said Rich. "Our exclusive Medigap EZ-App platform is a prime example of the type of efficient applications we will continue to build in the future."
"Catholic Life is proud to partner with Ensurem," said President and CEO of Catholic Life Insurance, J. Michael Belz. "We believe our customers will greatly benefit from the ease and convenience of the online application. We look forward to working with Ensurem on future products."
To learn more about the Medigap EZ-App, visit https://catholicmedicaresupp.com/. For more information about Ensurem, visit http://www.ensurem.com.
About Ensurem, LLC
Ensurem, LLC was launched in January 2016 with a two-fold mission of Awaring America™ about the value of life insurance and supplemental health products and providing a simplified buying process. Based in Tampa Bay, Florida, the company provides insurance-related products to consumers nationwide through its online platform. Ensurem offers several features to help customers live Life Optimized™, including direct-to-consumer products as well as a library of product guides and resources.
About Catholic Life Insurance
Catholic Life Insurance ranks among the top 10 largest fraternal life insurers in the nation. More than 80,000 families rely on Catholic Life for protection and security. Its assets exceed $1 billion and insurance-in-force surpasses $2 billion. The company offers life insurance, IRAs, annuities, Medicare Supplement Insurance and fraternal benefits to individuals and families throughout Texas, Arizona, Florida, Louisiana, Oklahoma, Mississippi and New Mexico. The company also offers volunteer opportunities that enhance its members' lives and benefit the communities in which they live. Although the common bond for most members is the Catholic faith, Catholic Life is independent of any Catholic institution and welcome people of all beliefs and religions. For additional information visit http://www.cliu.com.