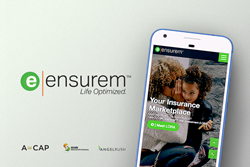 Largo, FL (PRWEB) October 02, 2017
Ensurem, LLC, an innovative technology and digital marketing platform dedicated to simplifying the process of buying insurance, announced today a $12.25 million capital commitment from and partnership with an affiliate of A-CAP, a New York City-based insurance holding company specializing in life and health insurance and related services.
This funding follows a successful angel investment round of $1.7 million led by AngelRush, a San Francisco-based investment firm that uses its proprietary direct-to-consumer digital engagement platform to empower partner companies.
A-CAP is an industry-leading financial platform that owns multiple insurance and financial businesses. A-CAP's significant capital commitment will help Ensurem expand its capabilities in four main areas:

Digital storefront where consumers can easily research, shop and purchase life insurance policies, supplemental health coverage, 'living insurance', and other insurance-related products.
Digital customer acquisition technology and expertise.
Proprietary product platform used in the development of new insurance products for direct-to-consumer sales.
Third-party administrative services specializing in straight-through processing, providing insurance companies full back-office support in collaboration with Secure Administrative Solutions (SAS), A-CAP's third-party administrator affiliate.
A-CAP's insurance capabilities, combined with the digital marketing expertise of AngelRush and Ensurem's own team of insurance and technology experts, will advance the company's robust direct-to-consumer insurance platform.
"Our strategic partnership with A-CAP grants us access to third-party administration (TPA) services, reinsurance capabilities, and a wealth of knowledge in the insurance carrier space, all of which will help us meet our mission of providing consumers with a consolidated resource to learn about and secure life insurance and supplemental health-related protection online," said David Rich, CEO and founder of Ensurem.
"Daily advancements in technology are changing consumer expectations of the insurance-buying process," said Kenneth King, CEO of A-CAP. "The Insurtech space needs innovation and disruption to meet these growing consumer demands and we are confident that Ensurem can deliver an exceptional insurance-buying experience."
For more information visit http://www.ensurem.com, http://www.a-capholdings.com and http://www.angelrush.com.
About Ensurem, LLC
Ensurem, LLC was launched in January 2016 with a two-fold mission of Awaring America™ about the value of life insurance and supplemental health products and providing a simplified buying process. Based in Tampa Bay, Florida, the company provides insurance-related products to consumers nationwide through its online platform. Ensurem offers several features to help customers live Life Optimized™, including direct-to-consumer products, a library of product guides and resources, and the Life Optimized Risk Assessment (LORA) tool.
About A-CAP
A-CAP is a holding company owning multiple insurance and financial businesses on its unique and synergistic platform. These businesses include primary insurance carriers, an investment adviser, an administrative services provider, reinsurance vehicles, and a marketing organization. With broad knowledge across the insurance and investment sectors, A-CAP's management team has diverse experience and provides comprehensive services to policyholders, insurance company clients and capital partners. Launched in 2013, A-CAP is a privately held company with offices in New York, Charleston, Chicago, Salt Lake City and Omaha.
About AngelRush Ventures, LLC
AngelRush partners with passionate entrepreneurs and innovators to accelerate businesses to their fullest potential. Led by a team of successful entrepreneurs with decades of combined experience building companies and brands, AngelRush provides seed-stage funding, strategic advice and domain expertise to support its partnerships.
About Secure Administrative Solutions (SAS)
Established by Sentinel Security Life Insurance Company, an A-CAP portfolio company, in 2014, SAS is a licensed third-party administrator (TPA) providing efficient and effective administration for insurance companies of all sizes and across multiple product lines. SAS operates in over forty states.
###
Ensurem Contact:
Danielle Hutchins
dhutchins(at)ensurem(dot)com
727-451-5126
A-CAP Contact:
Kristen King
kristenking(at)a-capholdings(dot)com
929-383-7501
AngelRush Contact:
David Lukrich
dlukrich(at)angelrush(dot)com
415-779-2003
SAS Contact:
Mike Maughan
mmaughan(at)sslco(dot)com
801-478-4022