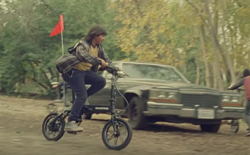 From now until May 31, 2019, fans can enter to win the ultimate "Be Legendary" prize pack including including a Pop Evil tour poster, limited edition vinyl release and a SWAGTRON Swagger 5 Elite Folding Electric Scooter
MUSKEGON, Mich. (PRWEB) April 05, 2019
SWAGTRON®, the leader in light electric vehicles, makes a cameo in Pop Evil' s new music video for the anthemic "Be Legendary." The EB5 Pro and EB7 Elite, the brand's signature folding electric bikes, are ridden by adolescent versions of the band members in a timeless story of underdogs rising against the odds. To celebrate, SWAGTRON is teaming up with Pop Evil to give away the ultimate prize pack for fans including a tour poster, a limited edition vinyl release and a Swagger 5 Elite electric scooter.
Set against the backdrop of a small town, the video features a young version of the band as a posse of misfits united against bullies, bonded by common interests including riding their SWAGTRON bikes together and playing the "Be Legendary" arcade game in an abandoned warehouse hangout.
"When we were first writing this song, it started with this addictive yet hypnotic guitar riff," says frontman Leigh Kakaty. "Suddenly I could see our fans coming together as one. I just felt like this was going to be a great opportunity to write an anthemic type of lyrical song that could positively motivate people."
The video is the fourth from Pop Evil's latest self-titled album, as well as the fourth collaboration with American director Columbia Tatone.
"This story is for the underdogs. It's about friendship and togetherness," says Tatone. "A reminder that although life doesn't always 'play fair,' know that our trials are a gift as you build sustaining character, discovering what you're indeed made of and made for as you earn the victory on the climb back up."
Pop Evil is currently on a worldwide tour in support of the self-titled album featuring "Be Legendary." See Pop Evil tour dates.
ENTER TO WIN: SWAGTRON + POP EVIL PRIZE PACK
From now until May 31, 2019, fans can enter to win the ultimate "Be Legendary" prize pack including including a Pop Evil tour poster, limited edition vinyl release and a SWAGTRON Swagger 5 Elite Folding Electric Scooter by visiting the Official Contest Page at SWAGTRON.com.
ABOUT SWAGGER 5 ELITE ELECTRIC SCOOTER
We're getting smarter about how we get around. So grab the electric scooter smart enough to take you there. The Swagger 5 Elite electric scooter. Featuring a powerful motor, app integration and lightweight folding design, the foldable SG5 Elite is a sleek, elegant solution for personal transport. Learn more.
ABOUT EB5 PRO ELECTRIC FOLDING BIKE
The future of urban mobility. The ultimate city commuter. That's the EB5 Pro in a nutshell. Powerful. Compact. Durable. Its robust motor and fast-folding design make it a no-brainer when it comes to getting around with little hassle and a lot of style. Travel at speeds up to 15.5 mph for about 15.5 miles in a single charge. Want to go faster and farther? Pedal options will let you do exactly that. Learn more.
ABOUT EB7 ELITE ELECTRIC FOLDING BIKE
Go the distance with an electric bike built for navigating tough city streets and demanding campuses. In-demand features packed inside a stylish, durable, lightweight, foldable frame. Powerful 350-watt motor. Extended mileage. Removable battery. Pedal like a traditional bicycle, then switch to pedal-assisted power to conquer hills or catch a quick breather. The EB7 Elite is the commuter's dream. Learn more.
GET SOCIAL: @SwagtronUSA on Facebook and Twitter, @SwagtronOfficial on Instagram | #ElectricLife
ABOUT SWAGTRON
SWAGTRON is the industry leader in electric rideables, having evolved as the forefront brand in its category. SWAGTRON was celebrated for being one of the first brands of electric rideables on the scene to offer UL certification for electrical and charging safety. SWAGTRON continues to expand and improve its line of innovative rideable products. For more information, visit Swagtron.com.
###
Media Contact: ​Don Stefanovich | DonS@Zake.com​